A Spotlight on the Theater Team: Epiphany Holmstock, Administrative Assistant
Posted: 04/07/21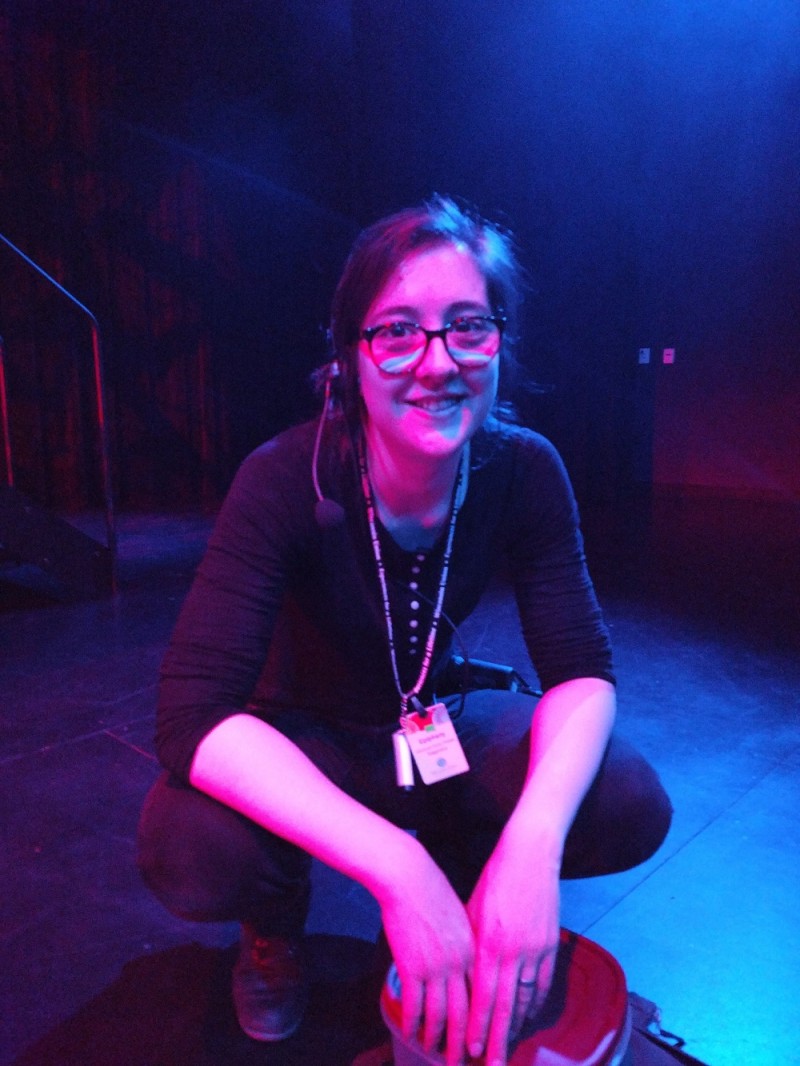 By Abby Synnes, Communications Associate
We continue our Wisconsin Union Theater team spotlight with Epiphany Holmstock, who has been essential to the workings of the Union Theater since she joined the crew as a stagehand in August 2017. Two and a half years later, she transitioned from working behind the scenes of performances to assisting in behind-the-scenes operations of the Theater from the administrative side. She now serves as Wisconsin Union Theater administrative assistant, a role she has held since March 2020. 
As the Theater's administrative assistant, Epiphany supports office and program administration, overseeing contracts' statuses and managing upcoming performances' details. She also works closely with Wisconsin Union Theater Director Elizabeth Snodgrass to ensure that everything runs efficiently. In the interview below, you can learn more about Epiphany's love for the performing arts as well as some of her passions outside of the theater. 
When did you first know that you wanted to pursue a career in the performing arts?
I really didn't know until it happened! Growing up, my family was always involved in local theater and the performing arts. I was on stage since before I can remember, but I never considered theater or the arts as a career. A few years ago, a friend got a job as a stagehand at the Theater and suggested I apply as well. I was excited to have an opportunity to get to know the technical side of theater, and it's been amazing to get to know the admin side, as well. 
How did your previous position as a Wisconsin Union Theater stagehand prepare you for your role as administrative assistant?
Both roles are all about making things run smoothly. When an event is running well, the audience doesn't think about the crew and all the work happening backstage. I think of my administrative work the same way; every day is different, and it's important to be nimble and responsive to whatever's going on.
What have been your favorite performances to be a part of, either as a stagehand or as an administrative assistant?
One of my favorite experiences as a stagehand was a performance by William Basinski. The Theater was asked to retract the seating in the performance space, but when Basinski showed up, he told us that his set was going to be 90 minutes of ambient music and that no one would be dancing. There was no time to put the seats back, so the audience had to sit on the floor. It turned into an incredibly intimate experience, with soft lighting, ethereal music, and the audience sitting or lying on the floor. Even though something had gone wrong, it ended up being a wonderful event.
What is the most rewarding part of working for the Wisconsin Union Theater?
We have so many different types of amazing events, but working with students to make their ideas really come to life is always the most rewarding. 
Your job sounds like it requires strong attention to detail and organization, considering you have to keep track of an assortment of projects at once. What are your tips for staying organized and productive, especially in this unusual time of many people working from home?
Don't trust your memory; write everything down! I rely a lot on tracking spreadsheets and checklists. Give yourself the space to step back and clear your head when you need to. 
What do you like to do for fun when you're not serving as the Theater's administrative assistant?
I like cooking, reading and gardening. Before COVID-19, I took classes with Cycropia Aerial Dance and at Madison Circus Space. I love having opportunities to perform with the circus community. In 2019, I got to be part of Cycropia's Orton Park Festival performance and was Clara in a circus version of "The Nutcracker," where I choreographed a routine and sewed my own costume, two firsts! One of my pandemic goals has been to improve my sewing skills, and I want to do more theatrical and circus costuming in the future. I'm also looking forward to having travel be a possibility again. I love exploring new places, but right now I'm most excited to visit my family on the East Coast.