A Perfect Theater Date Night at Memorial Union
Posted: 11/04/21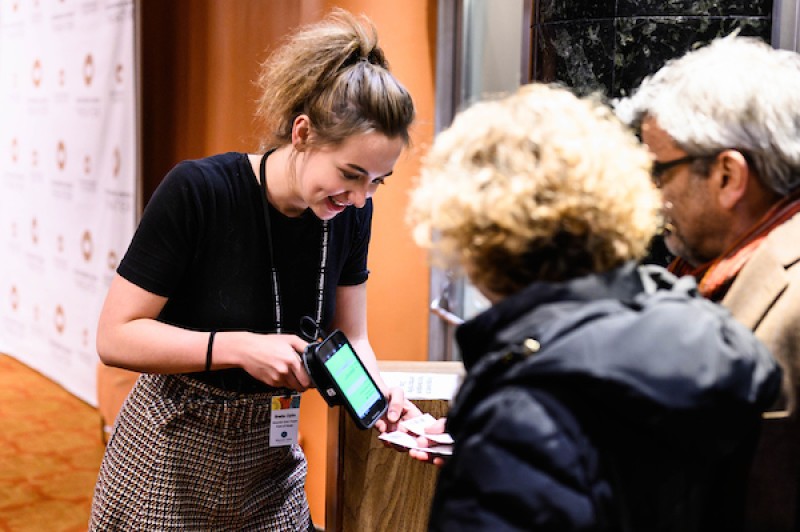 Your perfect theater date night awaits you at Memorial Union. From drinks to dinner to art exhibitions to theater performances, it's all right in your campus living room. 
Relaxation in our cozy seating: Your perfect date night at Memorial Union begins with a beverage and appetizers on Memorial Union Terrace, our famous outdoor, lakefront space or inside our iconic, warm der Rathskeller with its elegant archways and cozy atmosphere. Above one of the historic archways reads, "In cheerful spirit enter, leave your sorrows behind." We hope you can do exactly that during your theater date night at Memorial Union. 
Art exhibition: Now that you've had some time to leave behind the worries of the day, stop by our on-site art exhibitions in the Class of 1925 Gallery and the Main Gallery. Our exhibitions change frequently throughout the year, all created by University of Wisconsin-Madison students, who are dedicated to bringing novel and challenging exhibitions to Memorial Union. You can learn about the current exhibitions in advance of your visit here. 
Dinner: Your evening of relaxation continues with your choice of many on-site dining options. At der Rathskeller, you can choose from a menu of customizable salads, burgers, sandwiches and wraps along with delicious sides. A customer favorite is the crispy, savory tater tots with the filling, comforting signature stacked burger. You and your date can also order from Strada, our Italian eatery. There, our team will make you a pasta dish or pizza made-to-order. You can select from our chef-created recipes or make one that's all your own. Memorial Union is filled with seating for you to enjoy your dinner. Some of our favorite spots are the booths in der Stiftskeller and der Rathskeller as well as the seating at Mendota Lodge, which has expansive, lakeside windows.  
Dessert: After enjoying your dinner, make your next stop the Daily Scoop at Memorial Union. You don't need to leave the building to enjoy locally-made ice cream, house-made pie, signature sundaes, and made-to-order smoothies. A Daily Scoop classic is the double turtle. It's an elevated version of the turtle sundaes you may have had, with two scoops of creamy, hand-scooped ice cream; rich, cascading hot fudge; crunchy, sweet, glazed pecans; light, fluffy whipped cream; and, of course, a sweet cherry on top. And just next door to Daily Scoop in Memorial Union, you can select from a list of coffee, espresso, cappuccino, and latte menu options at Peet's Coffee. A mellow cappuccino, in particular, pairs perfectly with ice cream.
Wisconsin Union Theater performance: Your perfect date night culminates with a live theater event hosted by the Wisconsin Union Theater. The 2021-22 season includes performances by Terence Blanchard featuring the E-Collective and Turtle Island Quartet on Nov. 5, Sweater People on Nov. 14, Phony Ppl on Nov. 18, the Vijay Iyer Trio on Dec. 3, Gil Shaham on Dec. 11, Third Coast Percussion + Movement Art Is on Jan. 27, 2022, the Brentano String Quartet on Feb. 10, 2022, Pacho Flores with the UW Symphony Orchestra on March 5, 2022, George Hinchliffe's Ukulele Orchestra of Great Britain on March, 31, 2022, and Renée Fleming on April 30, 2022. Most performances will take place right at Memorial Union.
After months of disconnectedness when dates consisted of whatever was in the fridge or what could be delivered, we invite you to an evening out at your campus living room. We'll do the cleaning and cooking, and you can simply enjoy your evening. You can even stay at our on-site hotel the Wisconsin Union Club Suites and make a staycation out of your theater date night. We look forward to helping make your evening special and to being part of your experiences for a lifetime at Memorial Union.