5 Fun Facts About Christian McBride
Posted: 06/13/22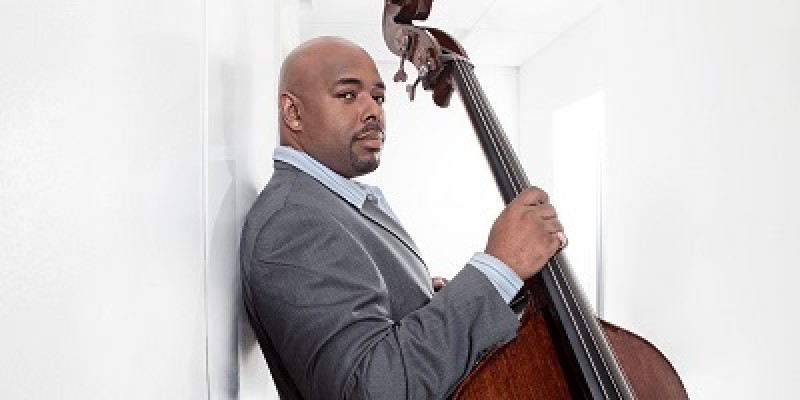 By Abby Synnes
We know you're on the edge of your seat waiting for the June 19 Wisconsin Union Theater-hosted performance by eight-time GRAMMY Award-winning bassist and composer Christian McBride. While we eagerly await this concert, we thought it would be fun to share five fun facts about the jazz icon. Test your fanship! How many did you already know?
After graduating from the Philadelphia High School for Creative and Performing Arts in 1989, Christian moved to New York City to pursue a degree in classical studies at the prestigious Juilliard School. Soon after his move to the Big Apple, however, jazz saxophonist Bobby Watson recruited Christian to tour with him, providing him with an "on the road" education. Instead of learning in classrooms and practice rooms, Christian spent a decade gaining invaluable experience in recording studios and performance spaces.


Christian has collaborated with some of the biggest names in music in a wide variety of genres. Just to name some, he's worked directly with jazz legends Freddie Hubbard, Chick Corea and Sonny Rollins; pop/rock stars Sting, Paul McCartney and Carly Simon; hip-hop/neo-soul artists The Roots, D'Angelo and Queen Latifah; and R&B icons Chaka Khan, Natalie Cole and the Godfather of Soul, himself, James Brown.


In 1998, Christian composed "The Movement Revisited: A Musical Portrait of Four Icons," a suite originally made up of four movements, each dedicated to a leader of the Civil Rights Movement: Rosa Parks, Malcolm X, Muhammad Ali, and Dr. Martin Luther King, Jr. Ten years later, he expanded the album, rewriting it to honor then-President Barack Obama, as well. Critics praised the album as "a powerful and deeply considered work that invokes not just the words, but also the ebullient spirit of the civil rights movement."


Christian's rendition of the jazz standard "Cherokee" earned him a GRAMMY Award for Best Improvised Jazz Solo in 2016, making him the first bassist to ever receive the award.


Last but not least, Christian has worked closely with two other artists that have graced (or will grace) the stage in Memorial Union's Shannon Hall this year: acclaimed soprano Renée Fleming and jazz drummer Brian Blade. Renée's April performance was part of the Wisconsin Union Theater's 2021-22 Concert Series. Brian Blade and the Fellowship Band will also perform as part of the Madison Jazz Festival, just 24 hours before Christian takes the same stage.
You won't want to miss this opportunity to experience Christian McBride's artistry in-person. Click here to purchase a ticket to his June 19 performance, part of the Madison Jazz Festival and a Juneteenth celebration of Black American Music.