Beyond the Stage: A Behind-the-Scenes Tour of Backstage Theater Spaces
Posted: 08/16/22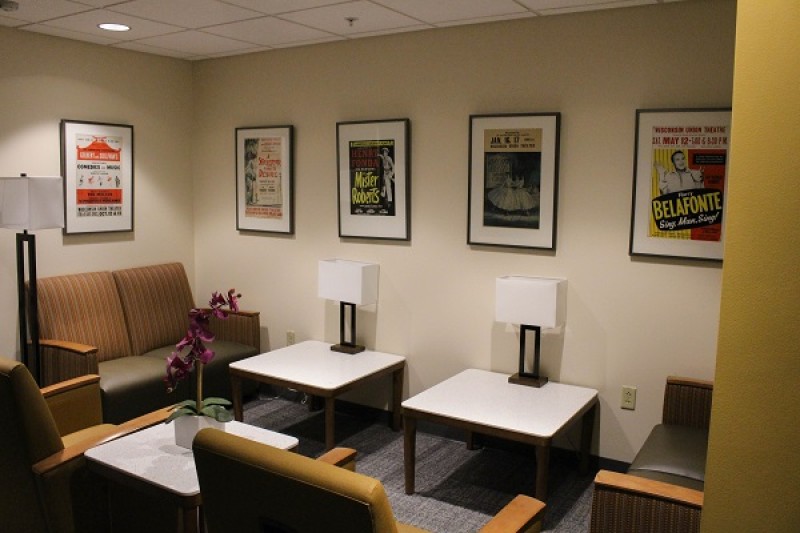 By Abby Synnes
From an audience member's perspective, a theater performance seems to begin when the lights go down and the artist takes the stage, and it appears to end when the performer exits the stage to the sound of uproarious applause. However, while the stage is clearly important, it's only one of many theater spaces needed for a successful performance. Performers often spend more time backstage than onstage, from getting ready before a show to decompressing afterward.
The Wisconsin Union Theater's spaces are no exception. While audience members don't see these behind-the-scenes spaces during a typical performance, we want to provide you with an insider look at two of these essential spaces: the dressing rooms and the green room, which received a facelift this past spring! Keep reading for a before and after look at these updated backstage spaces.
Dressing Rooms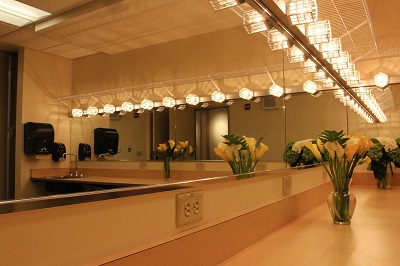 Memorial Union is home to seven dressing rooms: two behind Shannon Hall, two behind the Play Circle, and three on the lower level. Anyone who takes the stage, whether a violinist, a comedian, or an opera singer, gets performance-ready in one of our dressing rooms. As the name suggests, a dressing room is a space for an artist to change their clothes, fix their hair and makeup, and complete any finishing touches to get ready for the show. The dressing room is more than just a space to get dressed, though; New York Times theater critic Jesse Green described it as a place for performers to get undressed, shedding layers of themselves to adopt their onstage persona.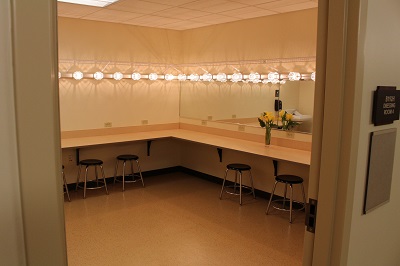 Dressing rooms often include clothing racks, chairs, bright lights, lots of mirrors and a long counter space for the artist to spread out belongings. The performer's time in the theater often begins and ends in the dressing room since it's where they prepare before a show and change back into their day clothes afterward.
One of our dressing rooms received an upgrade this year, and it now boasts a grayish-blue accent wall, a full-length mirror, updated carpeting, and new furniture, including a plush chair in the corner of the room.
Green Room
While dressing rooms are specifically for preparing one's appearance, every performing arts venue also has a green room, which provides a space for the artist to mentally prepare and relax before, during, or after a show. The Wisconsin Union Theater's green room features comfortable couches, tables, chairs, lamps, a kitchen, and a mounted TV streaming the onstage performance so the artist knows when it's time to shine. In addition, framed posters from past Wisconsin Union Theater performances decorate the walls, adding a unique and historic vibe to the room.
In our green room, artists might talk logistics with Wisconsin Union Theater staff or Wisconsin Union Directorate (WUD) Performing Arts Committee (PAC) student leaders, give an interview, have a tasty snack, socialize with other performers, or unwind after an event.
Like the dressing room, we installed new carpeting and replaced the furniture in the green room to give it a sleek, minimalist look.
We hope you enjoyed this behind-the-scenes look at two of our backstage spaces. In addition to physical spaces, every successful performance also requires months of planning and a team of dedicated Wisconsin Union Theater employees and WUD PAC student leaders. To see all this hard work come to life, we invite you to attend one (or all!) of the Wisconsin Union Theater's upcoming events.