Backstage Rituals
Posted: 07/21/22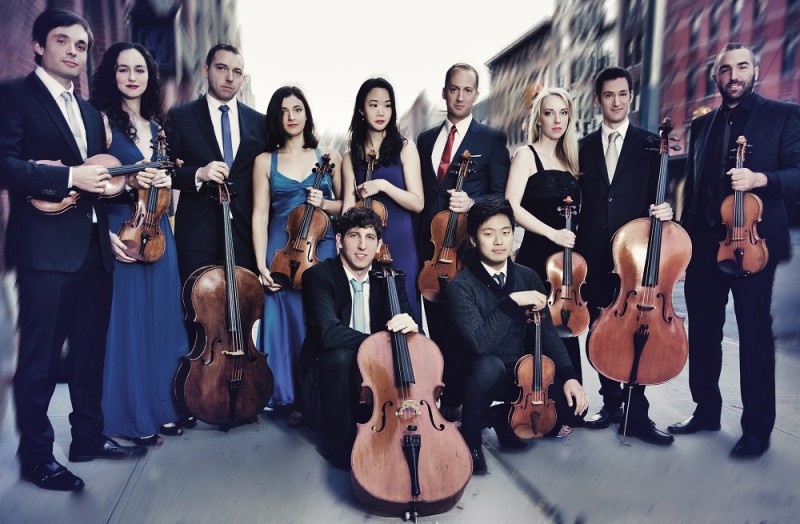 As the artists appear on stage for the show you've been anticipating all week and each picks up their instruments with ease, have you ever wondered how they prepared in the moments before stepping into the spotlight? You may be curious about what warm-ups they practice, whether they have a good luck charm, or even their favorite meals.
Here is your chance to peek backstage with select artists from the Manhattan Chamber Players coming to the Wisconsin Union Theater on Sep. 29. The Manhattan Chambers Players' impressive roster allows for an exceptionally varied repertoire with piano duos, clarinet quintets, and even string octets.
Playing an instrument every day can take a toll on a musician's body and even result in injury. So it's essential for musicians to practice a warm-up routine for every performance. These exercises can improve coordination and endurance. Let's dive into the secret of Artistic Director and Violist Luke Fleming's "glowing refinement" (The Philadelphia Inquirer).
In talking about his warm-up routine, Fleming described his practice as, "Slow to fast vibrato at varying rhythms with a metronome. And slow bow. Absolutely start every day with it."
There's nothing more distracting for a musician than feeling queasy on stage in front of hundreds of people. That is why most artists have a list of foods off-limits on the day of a show. Did you know that caffeine can dry out the vocal cords for singers? Some musicians request special foods, such as bananas, that may help calm nerves.
Pianist Adam Golka maintains intense focus while performing.
The Dallas Morning News reported, "He gave the music lovely lilt when wanted, but spun out the gentle slow-movement flourishes with improvisatory freedom. This was quite a fetching performance."
When it comes to food before performing, Golka said, "No Indian food, because it's my favorite, and I have no self-control when I eat it. And I always avoid pickles; I hate pickles."
Then, there are some superstitions that so many of us artists have. For some, it's before-show rituals or a lucky outfit.
Fleming said, "I have a lucky pair of socks and a lucky pair of underwear I wear for important concerts. No, I'm not kidding."
Maybe those lucky clothes are a key to Luke's sound being described as "confident and expressive…playing with uncanny precision" (The Strad).
Ready for a fun fact? Clarinetist Yoonah Kim said, "I'm quite good at playing the clarinet while hula-hooping!"
You may be wondering, how did Yoonah discover she had this talent? We can only guess, but just like an athlete, musicians put their bodies through unexpected positions to increase flexibility on stage. They play while lying down, on their tiptoes, walking, and apparently, even while hula hooping! Yoonah has an "...endless silken tone... full and ringing clarinet sound" (Times Union) that is amplified by her mobile stage presence.
Now that you know a few of the backstage secrets that help these musicians dazzle, come see these fascinating artists in action this September.
Manhattan Chamber Players | Thursday, Sept. 29, 7:30 p.m. in Shannon Hall