American Folk Music: A Representation of Our Past, Present and Future
Posted: 11/02/22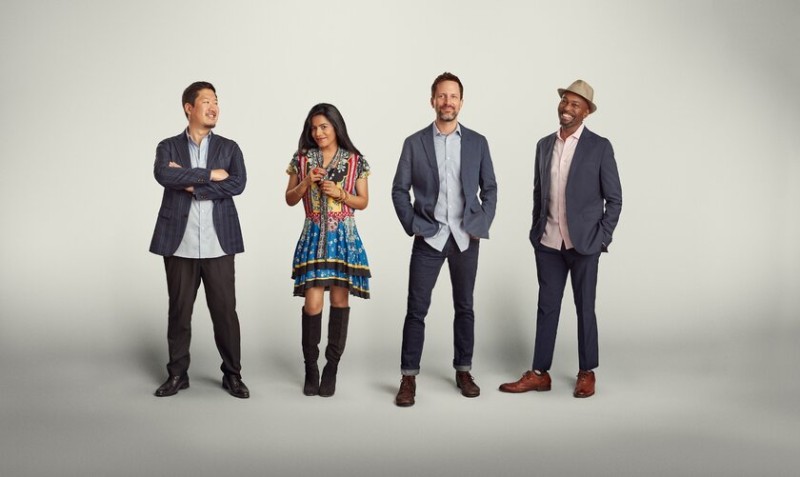 American roots music, a broad category encompassing bluegrass, gospel, old-time, blues, Cajun music, and Native American music, can trace its origins back to America's earliest colonial days. From the start, the music reflected the country's cultural diversity, blending influences from Europe, Africa, and beyond. American Patchwork Quartet's members refresh and reimagine centuries-old American folk songs while incorporating their own cultural and musical voices.
"It's not an accident that the group members, each with a thriving solo career, came together to start reinterpreting American roots music. The quartet's goal is purposeful: to unleash music's magic to help counteract pervasive prejudices around immigration and race. American Patchwork Quartet consists of an 11th-generation classical Hindustani musician, a drumming protégée of the late Ellis Marsalis, a first-call Issei jazz bassist, and a co-founder of Ranky Tanky, a Grammy-winning group inspired by the Gullah musical culture of the Carolina coast." – MPR
Meet the artists who make up American Patchwork Quartet:
Falu Shah (vocals)
Shah grew up in Bombay, where she trained extensively in the Jaipur musical tradition. The New York Times describes her singing as "East and West, ancient and modern." She immigrated to the United States in 2000, where she has been living and working since.
Clay Ross (guitar/vocals)
Raised in the American South, Clay Ross is known for blending jazz with elements of bluegrass, representing his native South Carolina. The Wall Street Journal describes him as "a very deft guitarist with a rich vocabulary of folk, blues, and jazz at his disposal."
Clarence Penn (drums)
Born in Detroit, Clarence Penn had drumsticks in his hands by eight years old. While classically trained, he has experimented with various genres through collaborations with many celebrated musicians.
Modern Drummer says, "No question, Penn is one of the most flexible and chameleon-like drummers to ever stroke the skins."
Yasushi Nakamura (bass)
"One of the most commanding voices on bass today"(Jazz-Blues.com), Yasushi Nakamura was born in Tokyo and moved to the United States with his family at age 9. Nakamura received a bachelor's degree in jazz performance from the Berklee School of Music and attended The Juilliard School for his artist diploma.
Together, American Patchwork Quartet strives to showcase the beauty of America's immigrant soul. Its goal is to contribute to a future with fewer prejudices around race and immigration, one in which all Americans can celebrate and share their differences.
Don't miss these artists' moving performance on Nov. 17 at 7:30 p.m. in the Play Circle at Memorial Union or live online. Purchase tickets here.