Writer's Picks for Top Five Songs Off of ABSENCE
Posted: 11/04/21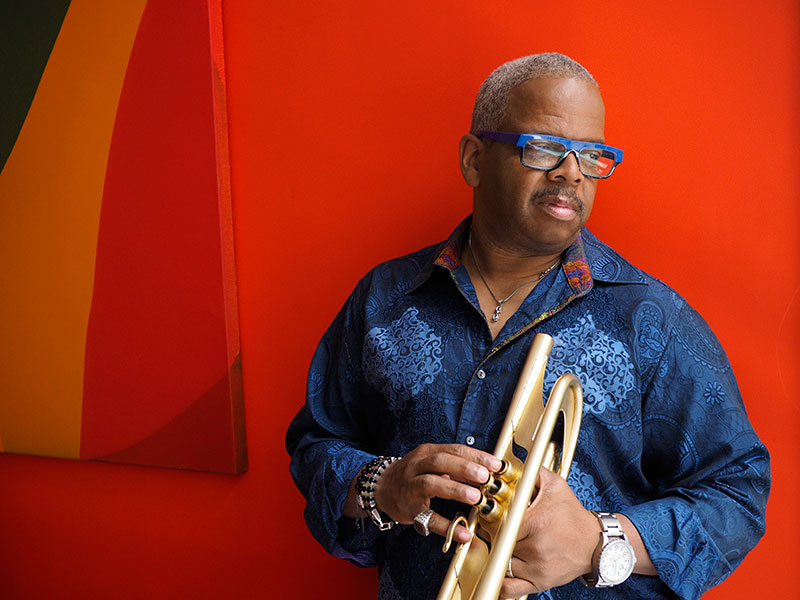 By Abby Synnes
I can't wait for Nov. 5, when Terence Blanchard, the E-Collective and the Turtle Island Quartet will take the Shannon Hall stage to perform songs from their album, ABSENCE. ABSENCE pays homage to legendary saxophonist and composer (as well as Blanchard's mentor) Wayne Shorter. ABSENCE includes arrangements of some of Shorter's works, as well as original compositions by members of the three musical groups. In preparation for the Nov. 5 performance, I've put together a list of five of my favorite songs from ABSENCE, which highlight the innovation and variety that the group displays.
Don't forget, in addition to the performance, all are welcome to join us for a studio class with Blanchard on Nov. 5 from noon-2 p.m. in Collins Recital Hall at the Hamel Music Center. At the studio class, you can experience Blanchard mentoring students on jazz techniques, hear him share about his approach to composition, creativity, and music, and end with a Q&A. You can also arrive at Memorial Union early on Nov. 5 and enjoy a beverage at the Shannon Sunset Lounge across from the Shannon Hall lobby or food and beverages at the Memorial Union's many on-site dining options. The Lounge will be open for pre-show refreshments from 6:30-7:30 p.m. on Friday.
1. "Absence"
David Ginyard, the E-Collective's bassist, composed the title track, which opens with a calming piano tune that quickly builds in volume and confidence. Blanchard's strong trumpet melody is at the forefront of this piece but is anything but overpowering. The brass and string instruments work in tandem to support one another, creating a powerful harmonic blend that fills any potential "Absence" with the beautiful sounds of collaboration.
2. "I Dare You"
One of the longer songs on the album, Blanchard's original piece "I Dare You" represents the constant rule-breaking and risk-taking that characterizes the jazz genre. The title, itself, comes from a quote by Shorter, who said, "Jazz means I dare you." Bold trumpet calls often dominate the song, accompanied by a metronomic drumbeat and impressive piano riffs. The foreboding tone keeps you on the edge of your seat, always wondering what surprise the next notes are going to throw at you.
3. "Dark Horse"
If you close your eyes, you can imagine that you're listening to this song in a contemporary jazz club. Similar to "Absence," "Dark Horse" begins with soft piano chords and easily expands into an auditory experience like no other. The E-Collective's guitarist Charles Altura composed this synth-infused piece. Altura's whirling guitar solo at the end of the piece somehow leaves you feeling satisfied, yet wanting more.
4 "Fall"
Blanchard's arrangement of Wayne Shorter's "Fall," originally recorded by Miles Davis in 1968, evokes imagery of seasons changing, a period of bittersweet transition that ends on a hopeful note. I feel like this song would fit perfectly in a 1950s movie, following a couple as they dance among the falling leaves. The fact that the song still feels new and fresh, despite being originally written more than 50 years ago demonstrates Shorter's timeless talent and Blanchard's keen eye for wanting to re-share Shorter's brilliance with the world.
5. "Diana"
"Diana," another one of Shorter's pieces, feels more like what I would typically think of as smooth jazz. In contrast to songs like "I Dare You" that build into almost hectic power struggles between the instruments, the collaboration between Blanchard, the E-Collective and the Turtle Island Quartet on "Diana" feels seamlessly cohesive. I could play this song on repeat for hours while studying or relaxing and still hear a new harmony or rhythm every time.
Experience a Live Performance of ABSENCE
Now that you've listened to these five brilliant songs, go listen to the rest of the album, because every song is a musical masterpiece that you won't want to miss. To experience these songs live, you can purchase a ticket for this unforgettable performance of ABSENCE in Shannon Hall or through livestream here.