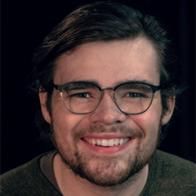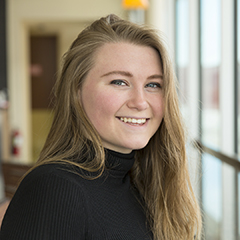 Testament by Anna Mei Baker, directed by Abi Priepke

When someone claiming to be from the future shows up in her bedroom, Katie's sure her night can't get worse.

Anna Mei Baker is a senior double majoring in Theatre and Anthropology. An avid reader and writer, when she's not in the lab she can almost always be found playing with words in one way or another.

Testament is her second piece to be featured in Marcia

Légère

, something she is incredibly humbled by.

Three Witches By Samuel Grayson Wood, Directed By Holly Berkowitz

Three Witches is a short play focusing on language, and how what we say impacts those around us. It is written to be utter nonsense, fast, and hopefully, funny. It was inspired by the wonderful, crafty and much more cunning women than me I'm privileged to know.

Sam Wood is a junior studying English and Theatre. This is his first play that people sometimes call a 'fun sketch'. He insists it is a play, because Sam is a serious man. He would like to thank his mother, Patricia Boyette, Jim Stauffer and Steffen Silvis for helping him along the way.

In Sight by Rini Tarafder, Mia Shehadi, and Danny Crowley. Directed by Samuel Jacob Wood

In Sight brings together the experiences of three people trying to understand themselves. Mia feels the play is about people speaking next to each other about being, and verbalizing what that means/looks like to each of them. Rini thinks the play is about dealing with losing someone nearby and understanding that people around are going through the same thing. Danny is still thinking about what the play means to him.

Rini Tarafder:

Rini is a second-year PhD student in Interdisciplinary Theatre Studies. She has written, arranged music for, and performed with various theatre groups in India. In Madison, she tries to get everything done on time. She loved writing In Sight with her fellow playwrights, and hopes to write more plays in collaboration. This is her first play at the Marcia Légère student play festival.

Mia Shehadi:

Mia is a former privateer who gave up my life at sea for the (respectfully) bountiful bosom of a maiden who convinced me a life of swashbuckling is not fulfilling, which lead time to combining my two passions before creating my ultimate masterpiece La Mer which was completed before I died by scurvy (ironically) but only gained popularity after my death with my name lost to history- I was later reincarnated to a 22 year old Lebanese woman, daylighting as Project Manger/Copyeditor at an advertising firm while moonlighting as an author.

Danny Crowley:

Danny likes to think he is a 50 year old man working in the salt mines writing plays and love poetry. But, he is former UW student, now reading tutor. Believes in art as therapy, service for the community, and Death Grips.

Apologia Gnosi, written and directed by Joshua Kelly

When their mentor in advanced robotics dies, Alan and Cassie are left only with his seemingly malfunctioning android. Behaving as if it had developed sentience, the two struggle to determine the differences between an elegant glitch and the patterns of human knowledge.

Joshua Kelly is a second-year Ph.D Student in Interdisciplinary Theatre Studies where he reads performance philosophy. A director, playwright, dramaturg, and AEA-Eligible actor, Joshua has worked on hundreds of shows. Favorite theatre memories include directing

The History Boys

,

Look Back in Anger

,

Evita

, and bare: a pop opera; performing as Katurian in

The Pillowman

, Dr. Scott in

The Rocky Horror Show

, and the Emcee in

Cabaret

; and workshopping his recent full-length plays.

All the reasons you wake in the night by alexandra Pleasant, directed by elliott puckette

In the shadowy region between waking and dreaming, those that sleep and dream are guarded by two figments, but after lifetimes of watching over them, of tending to them too closely through their hazy dreaming hours, the belief that these figments might know the sleepers better than they know themselves proves distressing and dire.

Alexandra Pleasant (of Minocqua, WI) is a senior studying Creative Writing and Communication Arts. This is her fifth stage play produced, her third produced by the Marcia Légère Student Play Festival. Other recent projects include a feature-length screenplay alongside a hoard of other screenplays for short films, a musical documentary, short and flash fiction, the occasional poem and the even rarer song lyrics.