Final Phases - Central & East Wing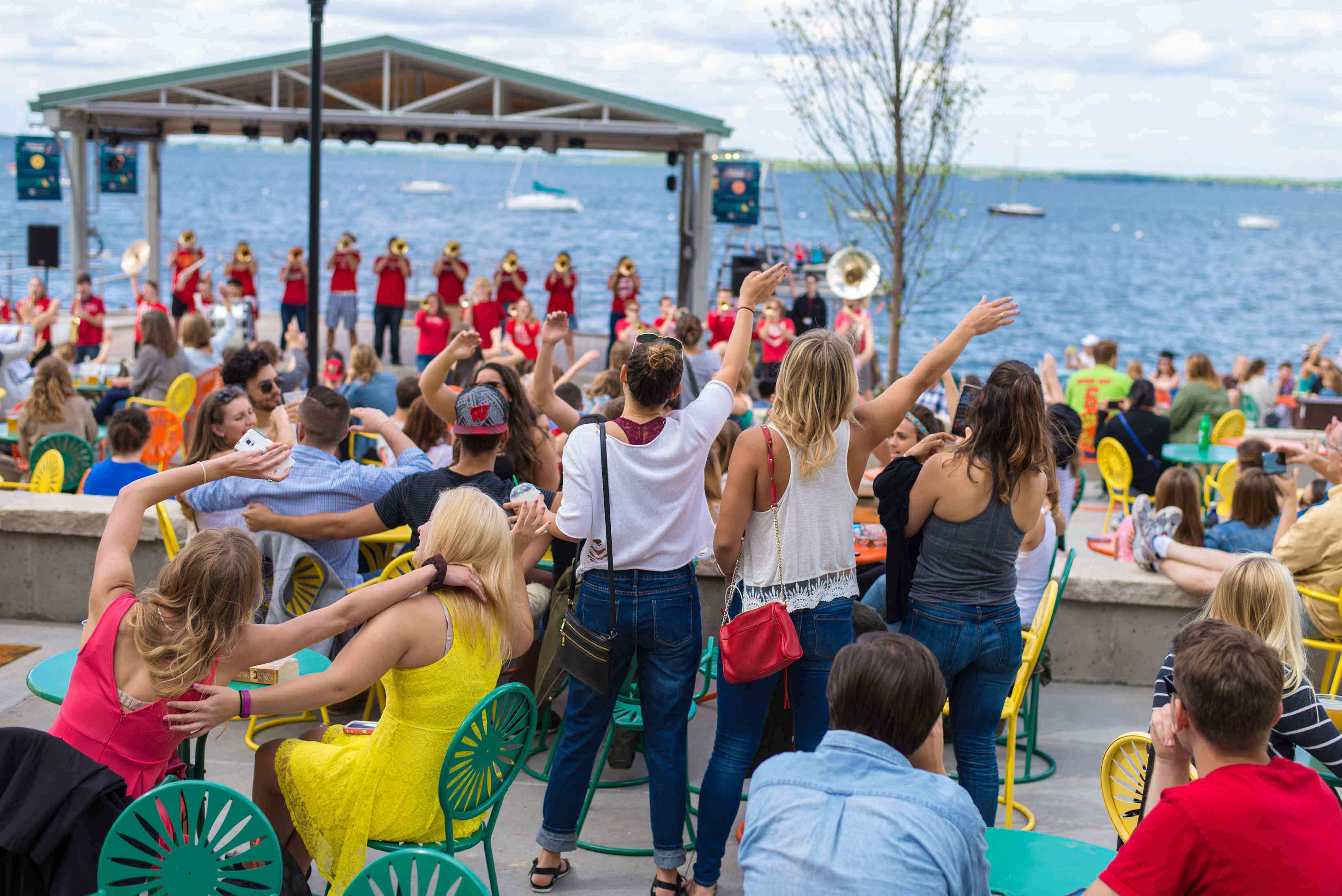 The return of warm weather means the return of the Memorial Union Terrace season. With recent renovations, this historic, iconic outdoor living room is more incredible than ever. Changes include a larger stage, an upgraded sound and lighting system, increased accessibility, an additional permanent concession stand and so much more.
---
Der Rathskeller holds a special place in the hearts of our community. Der Rathskeller's murals and fireplaces have been refreshed to their original luster after years of use. The steins have also been cleaned and are in storage for safekeeping for the remainder of the renovation. Plus, the cork ceiling was replaced with new cork tiles. In addition, the stage was rebuilt and now features improved lighting and a hi-definition screen that have made Badger game watches better than ever. 
---
The Daily Scoop returned to the Memorial Union's first floor, now facing the Red Gym and Alumni Park, with a bright, modern and retro look that celebrates the past and embraces the present and future. The space also features double the previous number of ice cream containers. What hasn't changed? We will still serve Babcock Ice Cream at the Daily Scoop, and it's still just as delicious. From a single scoop waffle cone to the Freshman 15 sundae with 15 scoops of ice cream, all the classics are back and then some. 
---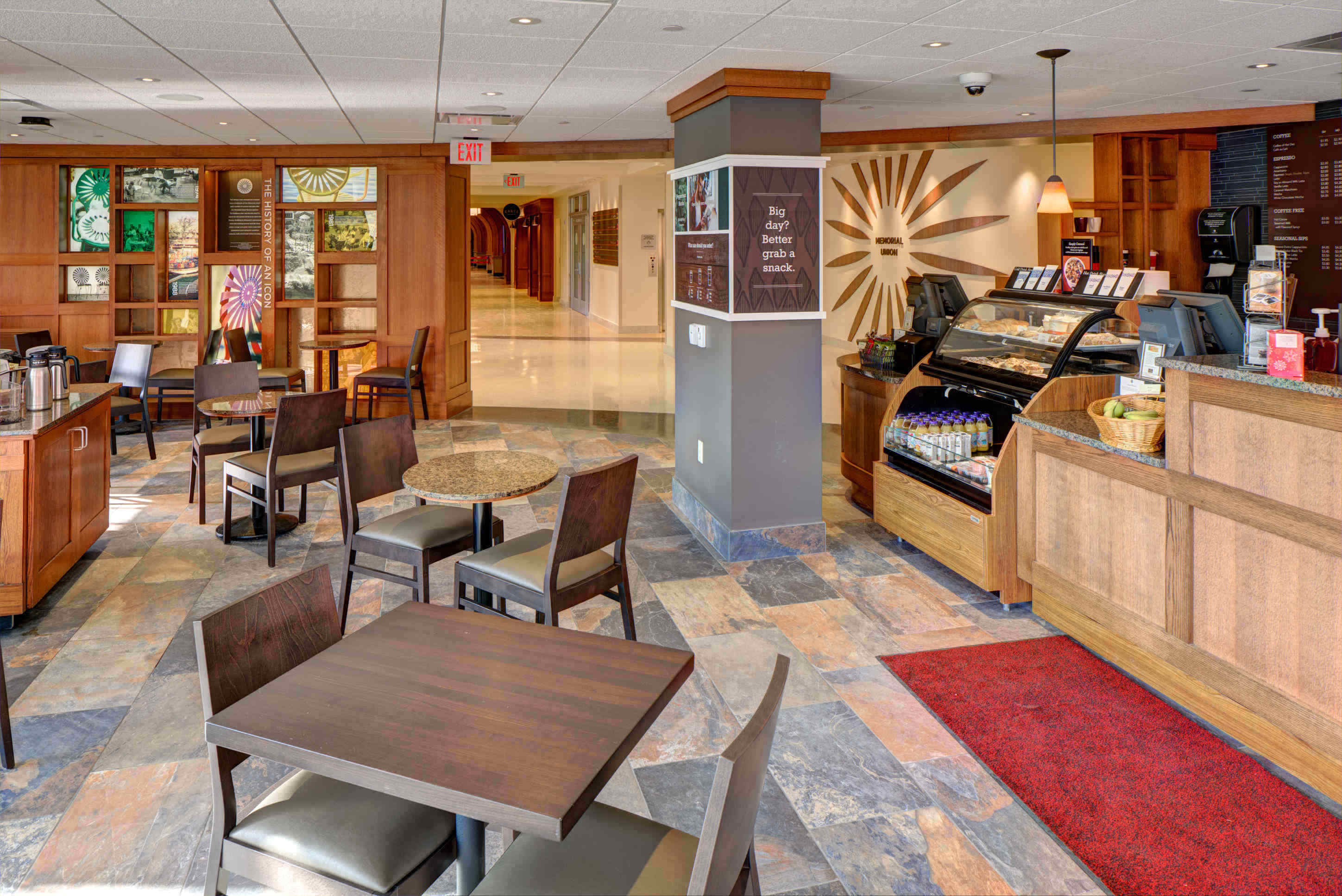 When you need a break and a caffeine buzz, Peet's Coffee & Tea provides an escape in the heart of campus with inviting seating and big windows. The location just inside the first floor east wing doors makes it easy to grab a quick cold brew or linger over a latte. Peet's Coffee & Tea recently debuted in this new location and with a brand new look. Located in the previous Essentials desk location, the modern café offers customers more room to rejuvenate with a pastry and a warm cup of tea. Additional seating will be available above Peet's in fall 2017.
---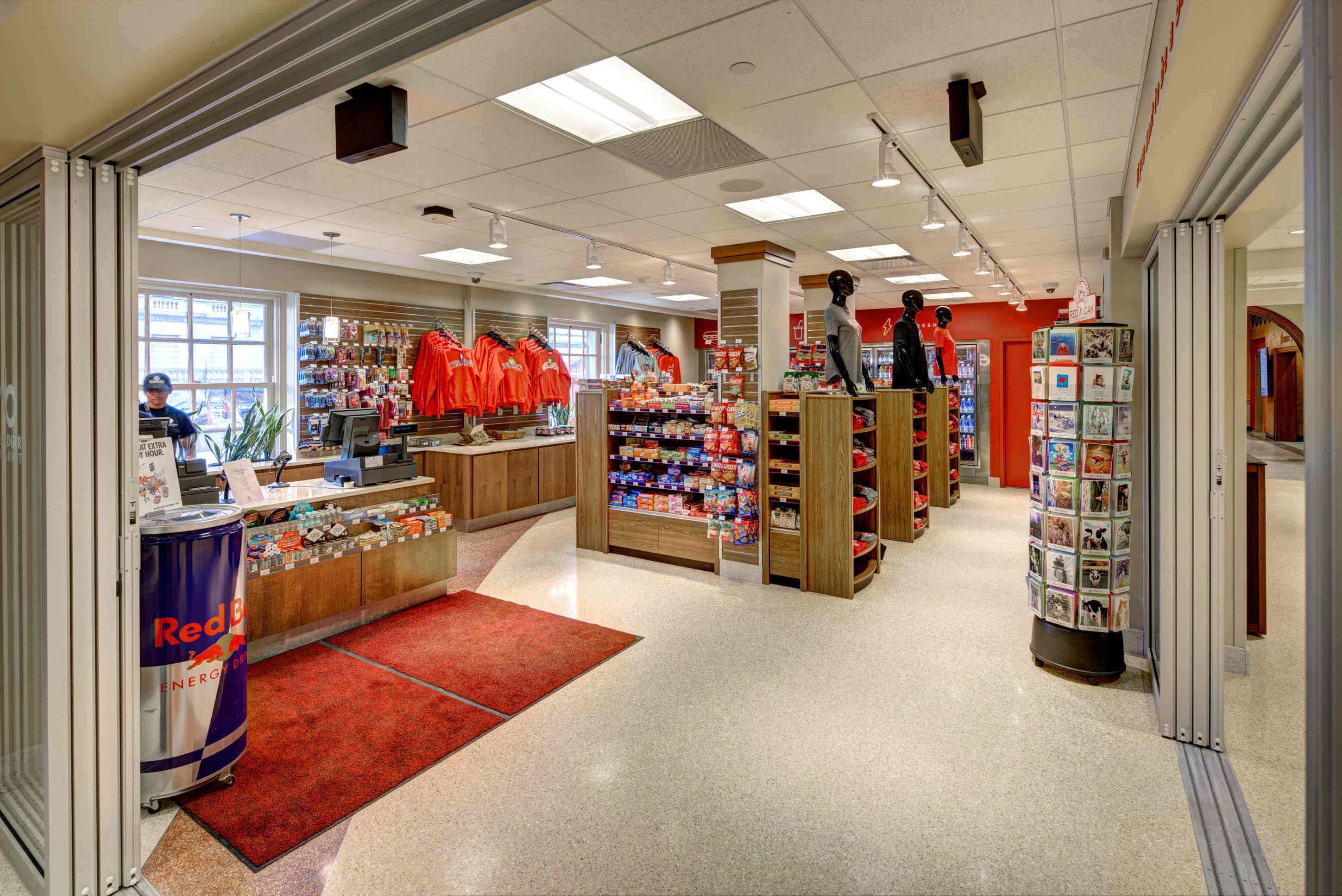 With the recent opening of the Badger Market on Memorial Union's first floor, the Badger community has a new one-stop-shop for essentials, grocery items, Badger apparel, and plenty of grab-n-go meal options. Designed for convenience, the Badger Market is just inside the east wing entrance in the previous Daily Scoop location. Badger spirit abounds in this store that is more than double the size of the Memorial Union's previous Essentials Store. 
---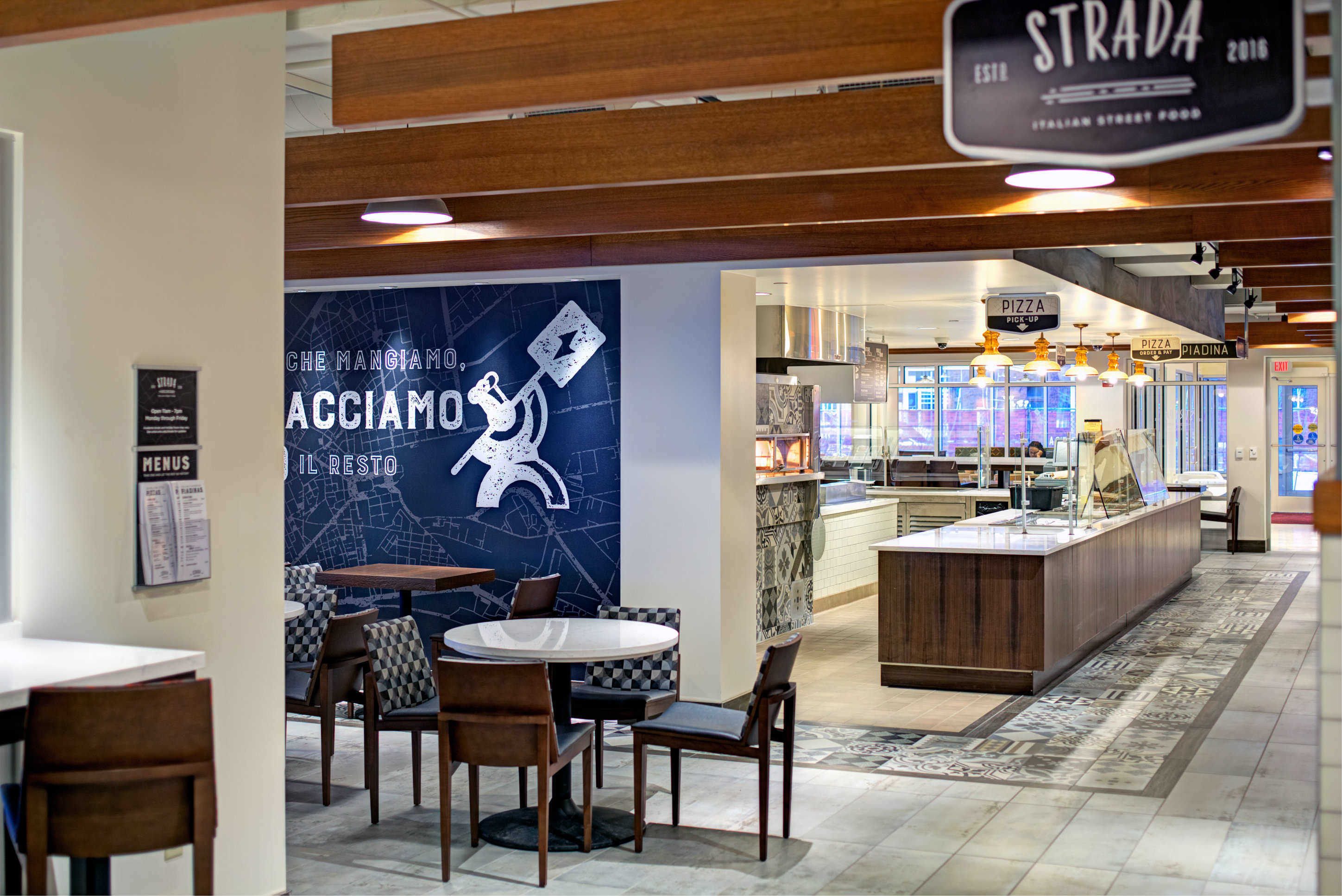 Strada, our Italian street food eatery, features hearth-fired pizzas, pasta dishes and piadinas—Italian flatbread sandwiches filled with cheese, meat and vegetables. Each menu item is fresh and made-to-order. Strada pizzas cook in approximately three minutes in a 700-degree oven. Guests can order from our chef-created recipes or create their own culinary masterpieces.  We also brought the Terrace into the new restaurant with a wooden wall that is made of reclaimed Terrace trees' wood and other campus trees.
---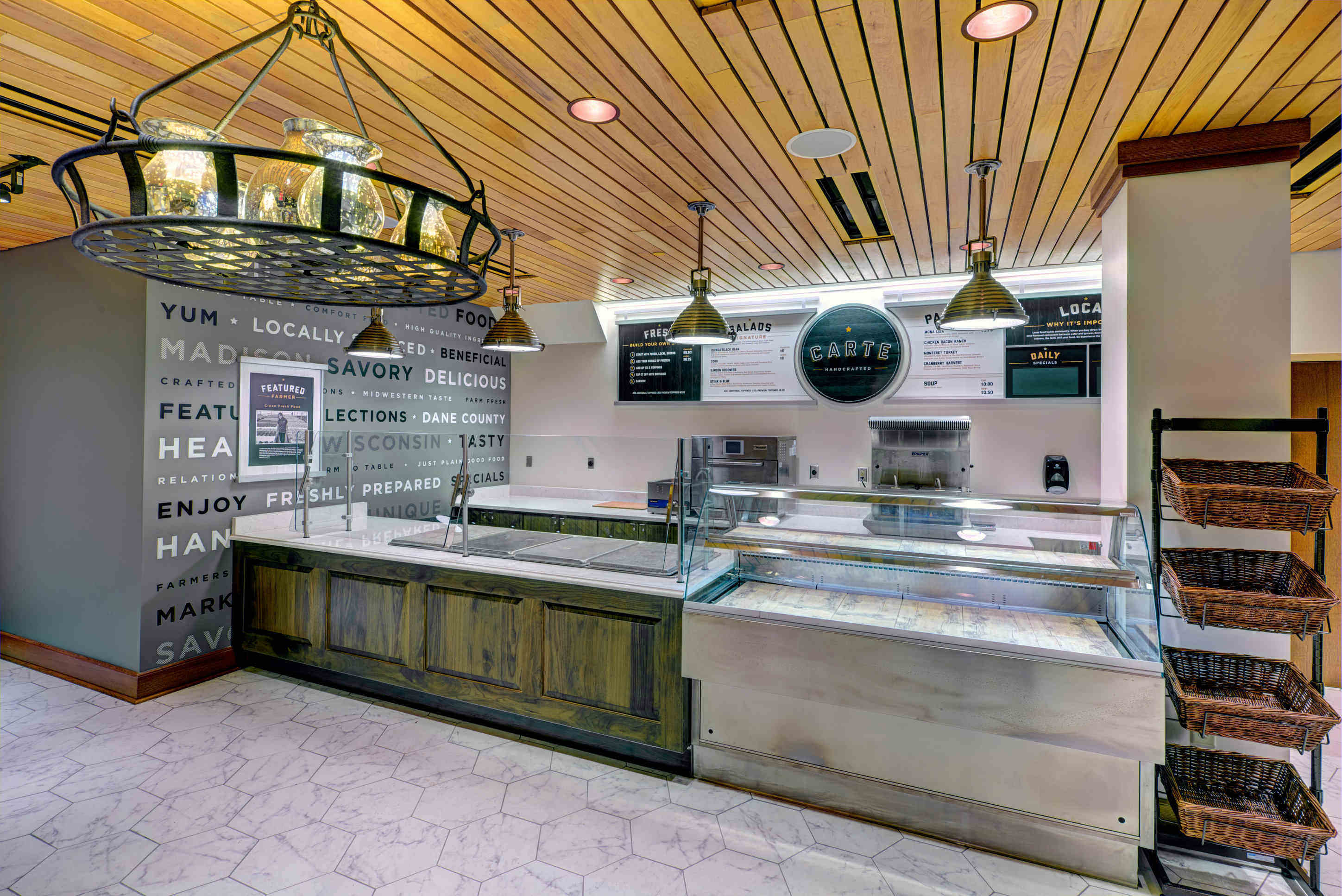 Carte is a made-to-order sandwich and salad shop with fresh, locally-sourced ingredients. Local ingredient options include lettuce picked daily at Clean Fresh Food in Belleville, Wis., and Babcock Dairy cheese from right on campus. Located on Memorial Union's first floor across from the new Badger Market, Carte has options that can accommodate any dietary need. This fast, casual dining option has quickly become a favorite restaurant on campus. While this dining venue replaces some of the options offered by the previous Lakefront on Langdon, the former cafeteria lives on in this space; the ceiling in Carte is reclaimed from Lakefront on Langdon.
---
Lakeview Lounge's extensive windows provide a wintertime view of the Memorial Union Terrace and a summertime connection to the famous Terrace. Connecting these spaces are floor to ceiling windows and sliding glass doors that can be opened to let the the outside in. Formerly known as Lakefront on Langdon, Lakeview Lounge's contemporary design and ample seating provide the perfect setting for studying, catching up with friends or enjoying a dish of Babcock Ice Cream.
---
The Gekas Commons, formerly known as the Trophy Room, serves as an extension of der Rathskeller, with additional booths and tables. The multicultural murals within the lounge by renowned artist Leo Tanguma were dedicated in March 1996 and have been carefully preserved throughout the renovation process. The paintings share the important message of unity through diversity. This room is named in honor of Ted Gekas, a UW-Madison alumnus and Wisconsin Union Association board trustee.  
---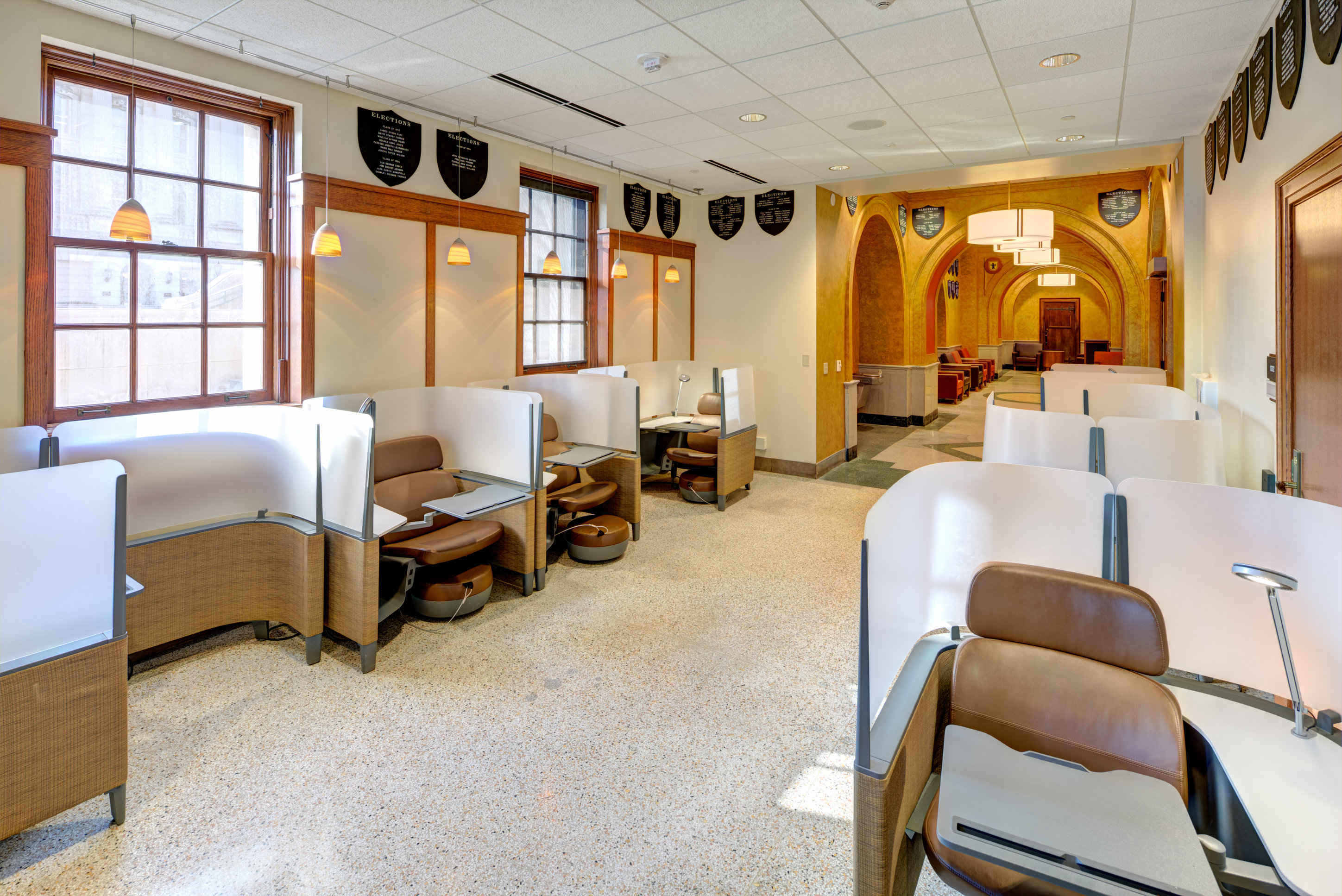 The first floor space where Wisconsin Union team members once served coffee and tea now serves up plenty of study space as the Memorial Union's Study Lounge. Located near Gekas Commons, the lounge provides semi-private study pods and an escape from the commotion of the day.   
---