WUD Publications Committee Debuts Fall 2018 Issues of Publications
Posted: 02/11/19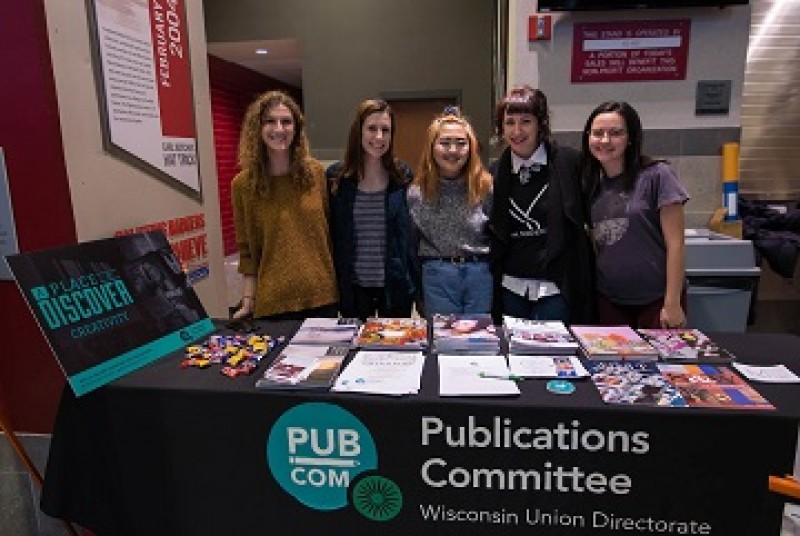 Just before the end of fall semester, the Wisconsin Union's Wisconsin Union Directorate (WUD) Publications Committee (PubCom) celebrated the launch of the latest issues of its publications as well as the work of the students who make these possible.
PubCom has more than 100 student committee members, who create incredible magazines and journals along with many events. The committee prints approximately 500 copies of each publication each semester. Committee members distribute publications on campus and in the greater Madison area.
Let's take a look at some of the fall 2018 issues.
Moda Magazine, UW-Madison's premier fashion and lifestyle publication
The fall 2018 issue continues this popular magazine's tradition of covering local, national and international style with articles on everything from the history of avant-garde fashion to how our possessions can feel like fragments of our identities. In one piece, titled "UNDER CONSTRUCTION, An Interview with Artist & Designer Samuel William", Editorial Assistant Marin Smith takes readers into a UW-Madison student's creative world. Composed in question-and-answer format, this piece provides insight on how the artist and designer, named Samuel William, became interested in fashion and what led him to create his own clothing collection. Click here to learn about the unconventional setting that inspired him and his sources of inspiration in the fall 2018 Moda issue.
The Dish, an industry-quality food magazine for people on a budget
The Dish's fall 2018 issue takes readers on a truly expansive literary journey with a look at the connection between food and culture, the history of Wisconsin food, the intersection of food and politics, and more. Some of these elements can be found in the article, "Farm to Tasty" by Julie Ellis. In this piece, Ellis describes what defines "farm to table" and where this trend can be seen right in Madison, Wis. This includes highlighting area restaurants that specialize in serving local food from passionate farmers. Click here to read more about the elements of farm-to-table and where to take a bite out of this trend in Madison.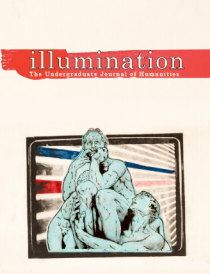 Illumination, an award-winning creative writing magazine
Illumination brings together literary art of many kinds, including poetry, short stories, essays, and visual art in a print issue and an online blog. Featuring the work of UW-Madison students of all majors, this publication is a celebration of creativity and the human experience. One such experience is exquisitely described in the poem "What happens to a friendship that is lost?" by Olivia Hughes. Its lines beautifully capture pain, determined resiliency, confusion, and the what-ifs that haunt so many memories. Read her work and other creative pieces in the fall 2018 Illumination issue here.
A Creative Outlet
These publications serve as a creative outlet for UW-Madison and for their thousands of readers. In producing these magazines, committee members are learning and gaining real-world professional experiences in many fields, such as graphic design, copywriting, editing and proofreading, marketing and more.
More information about additional publications these student leaders produce can be seen at the following links:
Emmie, the ultimate music magazine, is available for reading here. The magazine team also hosts a radio show on Sundays at WSUM.
Souvenirs, a collection of travel experiences, is currently accepting writing submissions. Its most recent issue is available here.
Sifting and Winnowing is a journal of political science, public policy and service. The team is preparing to host the annual Wisconsin Ideas Conference as well as preparing to launch the journal's spring 2019 print issue. Additional information is available here.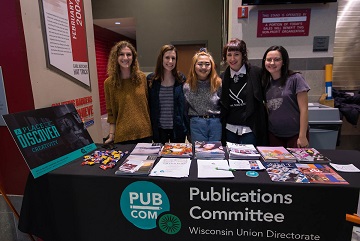 Donations to the Wisconsin Union's Student Leadership Endowment Fund help make leadership positions, such as those in WUD Publications, possible. Click here if you would like to make a donation toward supporting these students and their work. Thank you for your continued support of creativity and leadership at the Wisconsin Union.