Welcoming our New Wheelhouse Co-Directors
Posted: 12/06/18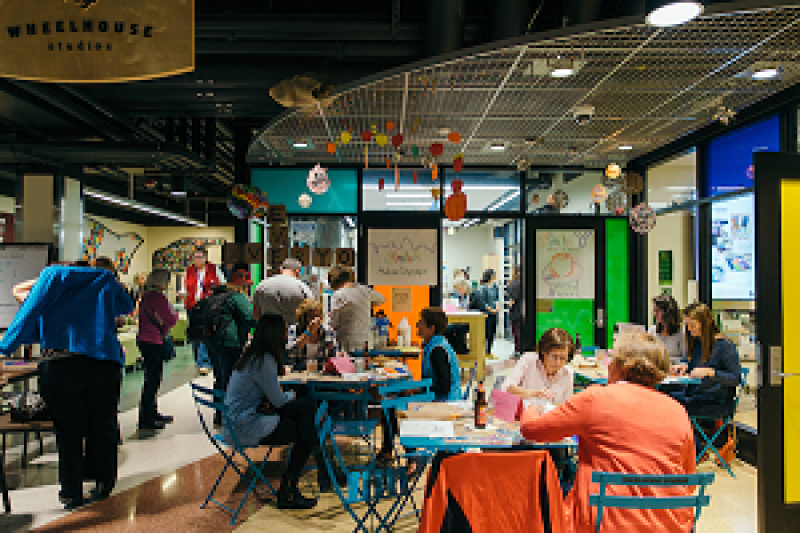 Wheelhouse Studios, our in-house art studio at Memorial Union, offers students members, non-student members and campus guests on-campus creative experiences for a lifetime.
Wheelhouse Studios welcomed new Co-Directors Tony Wise and Taylor Franklin in July 2018 following the retirement of longtime Wheelhouse Director Jay Ekleberry. In their roles, Tony and Taylor plan, organize and run Wheelhouse's classes and events.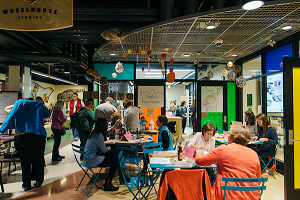 Taylor started her professional career as the program director of Bayview International Center for Education and the Arts in Madison. She later transitioned into teaching art in Wisconsin Public Schools.
Now, as a Wheelhouse co-director, Taylor says she is most excited to see students take advantage of the creative resource Wheelhouse provides.
"Making art in whatever way you choose can be a helpful antidote to the stressors of life," Taylor said. "Come throw pottery, create a painting, or make jewelry with friends!"
For Taylor, art was always an interest and a constant in her life. Her favorite art form? Dancing. With a passion for bringing creativity into the lives of others, Taylor says dance is a functional art that can evoke emotion and tell a story.
As for Tony, pottery is his favorite type of art. He enjoys the process of bringing an object together with such immediacy and creativity.
"I've always wanted to put objects together and create," Tony said.
Prior to working at Wheelhouse, Tony was (and still is) a practicing artist and educator. Working with artist-in-residency programs and completing his graduate studies in ceramics.
The future of Wheelhouse, to Tony, is filled with new and exciting programming that takes on new perspectives by using traditional techniques and advancing them in new and innovative ways.
"Anyone can make art, and everyone is an artist," Taylor said. "I would love to make Wheelhouse Studios an approachable space for relaxation, inspiration and creativity."
Come meet Taylor and Tony in-person at Wheelhouse and make the most of Wheelhouse, your creativity outlet on campus. Click here for information about upcoming art-making opportunities.