Union Participates in Effort to Create Healthy Habits in the First 45 Days
Posted: 09/30/16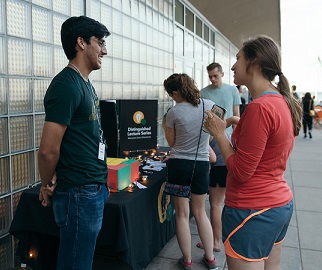 The Wisconsin Union is joining the UW-Madison campus in an effort called the First 45 Days Initiative to help students establish healthy habits during students' first 45 days on campus.
The Union launched its First 45 Days welcome back campaign on Sept. 1, and the effort will continue until Oct. 15. The campaign includes dozens of alcohol-free events and opportunities for students to enjoy their campus experience without alcohol.
The Wisconsin Union Directorate committees created and organized most of the Wisconsin Union's First 45 Days events. The events include free film screenings, concerts, game nights, art classes, open mic nights and so much more.
Campus's First 45 Days Initiative launched in 2014 in an effort to create consistent messaging regarding alcohol use and provide alcohol-free events, along with other important, related initiatives.
The program focuses campus resources on behaviors related to alcohol use during the first 45 days of the academic year, because studies have shown that the habits students make in these first days last throughout the year.
In fall 2013, an online alcohol education prevention program for incoming first year students showed 72 percent of first year students had consumed alcohol. It also showed that 42 percent of students become high-risk drinkers once on campus.
The Wisconsin Union team is doing its part to change that, to ensure that students engage in healthy habits that help them succeed.
To learn more about the Union's First 45 Days events, please visit union.wisc.edu/welcomeback.