Multiple Wisconsin Union Team Members Honored for their Work
Posted: 05/16/18
Multiple Wisconsin Union team members were recently recognized for their outstanding work in everything from managing sound and light systems to social justice leadership. Continue reading to learn more about these incredible individuals, their work and their awards.
Courtney Byelich, Wisconsin Union Directorate (WUD) Music advisor
The Student Personnel Association granted the Leadership in Social Justice Award to Courtney Byelich April 11. Courtney received this award for demonstrating leadership and courage while initiating a more socially just learning and work environment for students and staff. Courtney has worked with the Wisconsin Union for six years. She first became involved with the Union as a WUD Theatre Committee member. (The Committee is now called the WUD Performing Arts Committee.)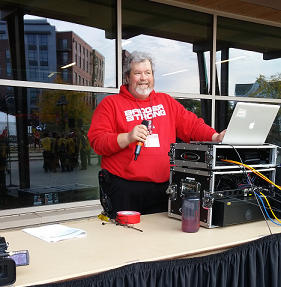 Lance Raney, sound and light engineer
The University Staff Awards Selection Committee recently selected Lance Raney to receive one of eight prestigious University Staff Recognition Awards. Known as "DJ Lance" by many students on campus, he is the face behind the sound and lights at many treasured campus traditions, such as Badger Bash. This award recognizes Lance's dedication, good nature and work ethic.
Iffat Bhuiyan, 2017-18 president
Iffat Bhuiyan received the Future Leader in Student Affairs award in April for her work in leadership positions at UW-Madison, including serving as the WUD Alternative Breaks Committee director and Wisconsin Union president. The Student Personnel Association extends this honor to students who have expressed interest in pursuing student affairs and have provided exceptional service to other students during their time on campus. Iffat has been involved with the Wisconsin Union since her freshman year and recently graduated with a bachelor's degree in community and environmental sociology and environmental studies.
Robin Schmoldt, WUD Art and Film Committees advisor, art collection manager, Union South program director
Robin Schmoldt recently won the Excellence in Higher Education Administration award from the Student Personnel Association. Robin's work includes creating programming for Union South in the Sett and outdoor spaces, managing one of the largest collections of original Wisconsin art in Wisconsin, and advising multiple student committees in their programming work.
Learn more about Courtney's, Robin's and Iffat's awards and the work that earned these talented individuals their awards here. More information about the honor received by Lance and his contributions to the university is available here.