Sunset Slam was a Slam Dunk!
Posted: 11/01/16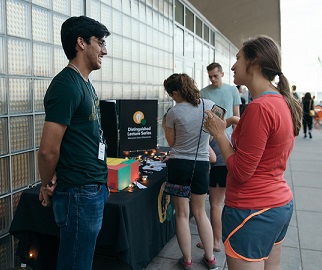 The Wisconsin Union Directorate (WUD) team is celebrating the success of its new event, called Sunset Slam, which was held on Sept. 4 at the recently renovated Memorial Union Terrace.
Approximately 2,000 students, staff and faculty, Wisconsin Union members and community members attended the first ever Sunset Slam, which aimed to welcome students back to the University of Wisconsin-Madison (UW-Madison) campus and provide students with information about Union programs and leadership opportunities.
The event featured performances by Bill Blagg, who is one of the nation's top touring illusionists, and DJ Boyfrrriend, who is a local, socially conscious DJ. Guests also enjoyed a photo booth and a variety of other activities created by the 10 WUD committees.
Thanks to WUD's hard work and collaboration, 200 people danced during DJ Boyfrrriend's performance, and 765 people attended Bill Blagg's show. Plus, more than 70 sets of photos were taken in the photo booth!
The Hoofer Sailing Club team also had quite the turnout with approximately 700 people participating in its free night sail.
At this event, on average, each WUD committee received about 50 email addresses of individuals interested in learning more about WUD.
Plus, the Wisconsin Union dining services team offered an ID scanning demonstration that was very popular with guests. The team scanned nearly 300 IDs from 6 p.m.-9:30 p.m. While guests marveled at the scanners' ability to identify fake IDs, the Union reinforced its commitment to not providing alcohol to anyone under 21.
Dining services also served 250 customers at the Daily Scoop Terrace cart, opened 100 bottles of root beer for root beer floats and sold 300 burgers!
"I am so pleased that all of our WUD student leaders had so many personal conversations about who we are, what we do and how anyone can get involved," said Lily Hansen, the vice president of external relations.
Overall, the event organizers believe Sunset Slam provided a fun, casual way to welcome students back to the Terrace and increased WUD's brand awareness.