Treasured, Returned Paul Bunyan Art Debuts at Memorial Union
Posted: 11/05/18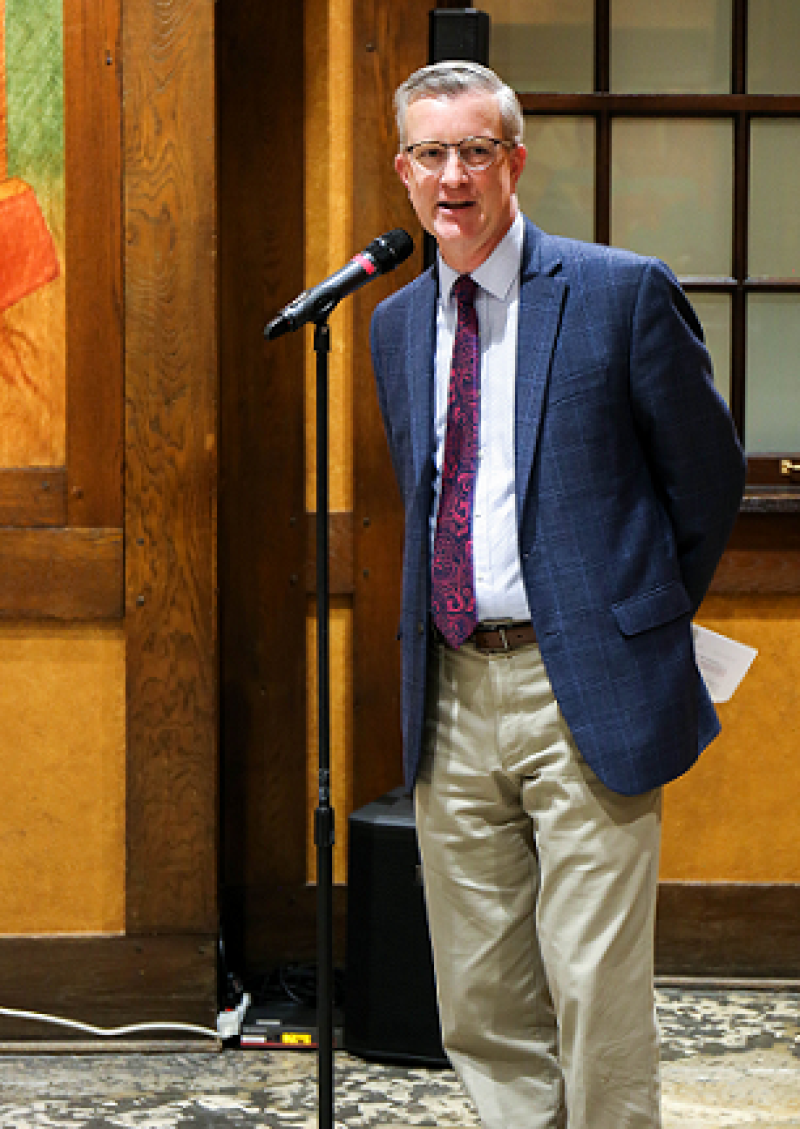 Magnificent in size, technique and details, murals by James Watrous of Paul Bunyan folklore returned to Memorial Union's Paul Bunyan Room on Oct. 5 after being stored for six years during Memorial Union construction.
Watrous, a University of Wisconsin-Madison alumnus, painted the 40-piece mural set from 1933 to 1936, using delicate egg tempera, an oil-based paint. It is said that Watrous ordered eggs from der Rathskeller in order to mix his own tempera on-site.
In collaboration with the Midwest Art Conservation Center, we carefully removed and preserved the fragile paintings in June 2012 due to the Memorial Union Reinvestment project, a multi-year effort to restore and enhance the Memorial Union. We stored the murals off-site to prevent damage from building vibrations.
The unveiling event began with remarks by Wisconsin Union Director Mark Guthier. Mark provided guests with an overview of how this mural project came to be, the stories in the murals, as well as the important role that Watrous played in art on campus and in the city, as a whole.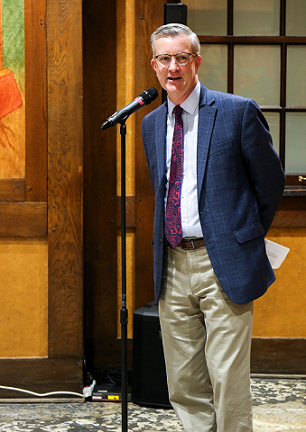 "This started as part of the Public Works Art Project Program and was only funded for six months," Mark said. "But he continued painting the murals for three years, until 1936."
Another well-known Watrous piece on campus is the tile mural, called "Freedom of Communication". Watrous completed the tile mural in 1973, and it can still be seen on the University Avenue side of Vilas Hall near Park Street.
Following Mark's remarks, Watrous' granddaughter, Meg Hamel, spoke to event attendees about the history of the Paul Bunyan murals and Watrous' other artistic accomplishments.
Meg commended our team for cultivating the artistic talents of students of many majors and for efforts to preserve the Paul Bunyan murals.
The Paul Bunyan murals can now be seen in the Paul Bunyan Room on floor 1R of Memorial Union. As you may know, the Paul Bunyan Room is designated as a space for students, staff, faculty, Wisconsin Union members and guests to enjoy how they would like to enjoy it. While the art has already returned, soon, with tables and chairs that once filled the room will also come back, restoring the room to be as it was prior to the start of Memorial Union construction in 2012.
We invite you to come see the murals for yourself and to enjoy the immersive Paul Bunyan Room art experience. If you have any questions about the murals, please do not hesitate to email us at union@union.wisc.edu.
Learn more about these paintings and the process our team underwent to preserve them in 2012.