Membership Engagement Efforts Provide Hands-on Learning Opportunities
Posted: 06/06/18
Student learning and leadership experiences can be found in every part of the Wisconsin Union's services, operations and programs, and membership services are no exception.
Behind the scenes of membership engagement at the Wisconsin Union is a talented University of Wisconsin-Madison student, named Claudia Schabes, whose projects range from ordering marketing materials to member event planning.
Since October 2017, Claudia has done all of this as the Union membership engagement fellow. The UW-Madison junior, who majors in both political science and social welfare, shared many reasons why this particular position appealed to her.
"A lot of people in my a cappella group have worked at the Union," Claudia said. "I heard you get a lot of responsibility, are independent in a lot of the work, accomplish a lot, and have input into membership engagement."
In her work, Claudia collaborates with the membership team and others throughout the Wisconsin Union to show members how much the Union team appreciates their support and to show them first-hand the difference their contributions make. All this is done under the mentorship of Membership Manager Dawn Dever, who believes strongly in the importance of student involvement in membership engagement.
"The insight we gather from including students on our team keeps our current work fresh and guides the planning of our future engagement efforts. Plus, our student team members receive hands-on vocational experience," Dawn said. "It's a winning situation for everyone."
When asked about her favorite part of working at the Wisconsin Union, her mentorship relationship with Dawn came to mind first.
"Dawn is open, and we have a strong working relationship," Claudia said. "I feel like my input is respected, and I'm learning a lot."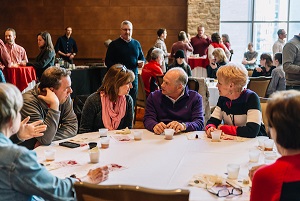 In coming months, Claudia and Dawn will work closely on many member engagement events, including Terrace on the Road, a series of one-day-only events in which the membership team will bring the sights and sounds of the Memorial Union Terrace to cities throughout the Midwest. "I am making sure everything happens that's supposed to for events like Terrace on the Road," Claudia said.
"I'm sending reminder emails and evites, checking members' statuses when they RSVP to events, and collecting supplies for events."
Claudia is aiming to bring lessons from her time on the membership team to her career after she graduates from UW-Madison. She aspires to, in the future, make a difference as a social worker in the future.
"Claudia manages nearly every detail of our engagement events, from working with vendors and other departments to hosting the events, themselves," Dawn said. "She does an incredible job as an ambassador of Wisconsin Union membership. We're very fortunate to have her on our team, and I have no doubt she will succeed wherever life takes her after her time at the Union."
To learn more about the efforts Claudia helps make possible, please visit union.wisc.edu/membership.