Tong Family Marina Project Update
Posted: 10/02/18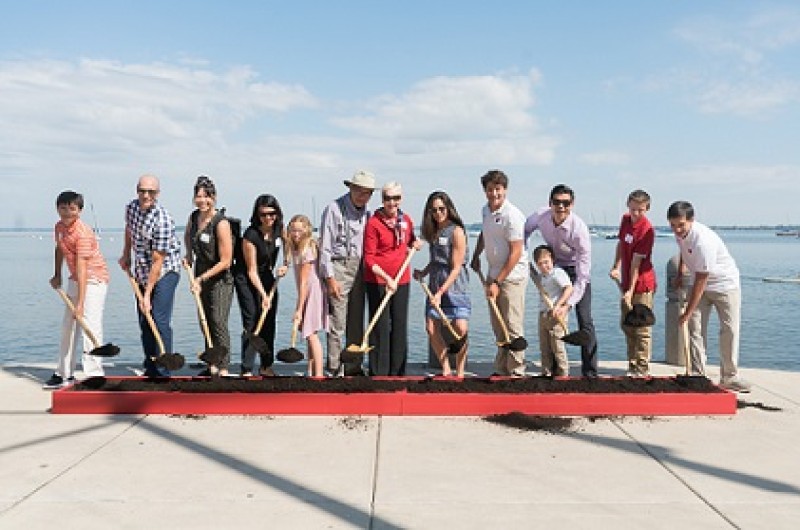 Sept. 15 marked the groundbreaking for the Wisconsin Union's future marina, a project that is set to transform the Hoofers' and Outdoor UW's pier system. And construction on the new Tong Family Marina has officially begun.
The current, volunteer-built pier structure lasted for 40 incredible seasons of Wisconsin Union outdoor recreation. The years of fun were showing with wear and tear that meant it was time to reinvest in the marina along the Memorial Union lakefront.
This construction project aims to create a modernized marina consisting of eight dock elements. The result? Arguably one of the best university marinas in the country.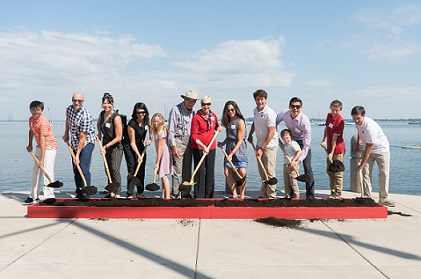 The Tong Family Marina will include many noticeable, new features, including a new 330-foot-long by 24-foot-wide greenspace and promenade along Lakeshore Path; a new davit crane to transfer boats to and from the water; and a new t-pier where the sailing team's Techs and 420s will be stored for quick, simple launching. The docks will accessible and enhance the safety of Union-goers. .

The Union has also been working with the Wisconsin Department of Natural Resources to restore and protect the shoreline during construction to bring back some green space on the lakeshore path. Other planned Hoofer Marina Project sustainability efforts include a filtration system for water runoff in the greenspace; and water circulators beneath the pier system that will, together with the greenspace filtration, help reduce the growth of algae.
"This new marina will provide access to Lake Mendota in a safe, efficient, welcoming way that will allow many generations of sailors to experience the indescribable joy of sailing for decades to come," Mills Botham, Wisconsin Union president and long-time Hoofer said.
Of course, this could not be possible without our donors and other supporters who help the Wisconsin Union meet the evolving needs of our community. From all of us at the Wisconsin Union, thank you.
And a special thanks to the Tong family, for their generous $1 million contribution to this project.
"This lakeshore is absolutely iconic to Madison and to the University, and it is absolutely worthwhile to continually update its infrastructure," Peter Tong said.
The Hoofer Marina Project is being funded solely by private donations. We have raised more than $2 million to date in private donations, but more than $1 million more is needed to make this marina dream a reality. More information about the Hoofer Marina Project, including how to help make this effort possible through a donation, can be found here: union.wisc.edu/get-involved/donate/give-to-hoofers.