Celebrating Lady Liberty's Return to Lake Mendota
Posted: 02/13/19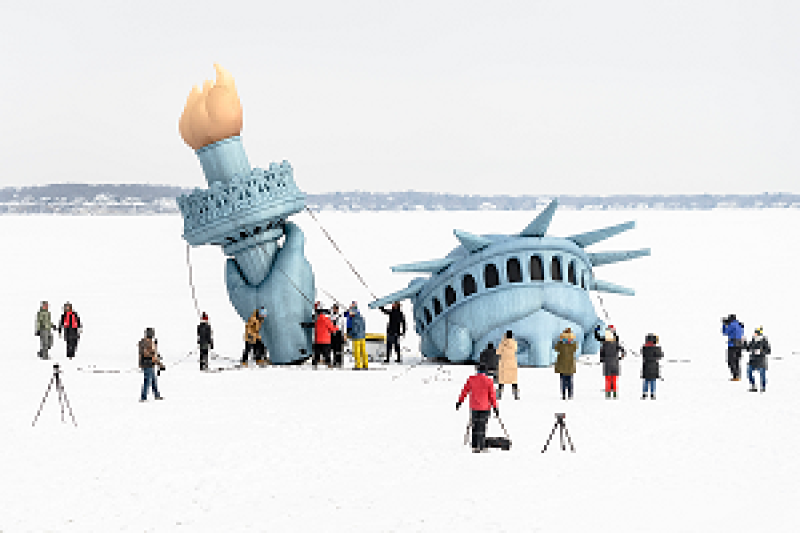 It made headlines all over Wisconsin when a legend came back to Lake Mendota Feb. 1-2: Lady Liberty. This tradition made its return during our annual Winter Carnival as a to-scale, inflatable replica of the statue's head, arm and torch.
The Lady Liberty tradition began with a Styrofoam version placed on the lake by the Pail and Shovel Party in 1979. This was the fulfillment of the party's campaign promise that, if elected to the University of Wisconsin-Madison's Wisconsin Student Association, it would bring the Statue of Liberty to Madison.
The re-imagining of the Statue of Liberty tradition and its 2019 return was made possible by many Wisconsin Union team members and student leaders, including Wisconsin Union President and UW-Madison senior Mills Botham, who worked towards bringing Lady Liberty back for two years.
In this article, we, at the Wisconsin Union, are sharing answers to questions about the statue and giving you a behind the scenes look at the return of this legend.
When was the last time the Statue of Liberty was on the lake?
Before this re-creation of Lady Liberty, the Styrofoam Statue of Liberty was last seen on Lake Mendota in 2010, as part of Winter Carnival. The statue also appeared on the ice of Lake Mendota 1979-1981, 1996 and 2009. The original Styrofoam Statue of Liberty was destroyed by arson in 1979 and replaced with a fireproof version in 1980.
Why was the statue brought back to the lake in 2019?
Botham said that the Idea to return Lady Liberty to the lake as part of our annual Winter Carnival is one on which he'd been working for years. Though, he said there were conversations about bringing it back before his time at the Union. He indicated that this year was the first time the Union team identified a company that could make this revival possible. This was also a fitting year for Lady Liberty to make a return, as 2019 is the 40th anniversary of the statue's original appearance.
Who produced Lady Liberty?
The company with which we worked to create the new Lady Liberty is Landmark Creations International Inc. of Burnsville, Minn. This company also created the inflatable Bucky that appears at Badger Bashes at Union South.
How long does it take to inflate and deflate Lady Liberty?
It is estimated that inflation and deflation each take seven minutes or less, though this can vary depending on weather conditions. The previous Lady Liberty required multiple days of preparation and assembly.
Of what material is the new Statue of Liberty made?
Landmark Creations International created the new Statue of Liberty out of durable polyester blend dye sublimated fabric. The use of this fabric, rather than the Styrofoam, increases the durability and ease of use of the statue and requires far storage space than the original material.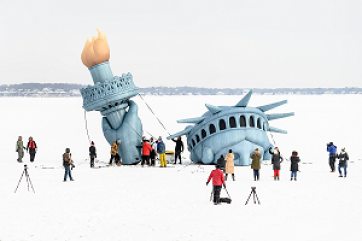 How tall is the statue?
The tallest point of the Statue of Liberty replica is the top of its torch, which is approximately 30 feet tall. The tallest point of the other portion of the replica is the top the crown, which is approximately 17 feet tall.
How was the new statue funded?
The new Statue of Liberty was made possible by private donations for which our team is incredibly grateful. As an organization operating without taxpayer dollars, donations; purchases at our restaurants, markets and cafes; and membership revenue continue to play a vital role in our ability to provides experiences for a lifetime, like this one.
Will Lady Liberty return in 2020?
Our team is aiming to reinstitute Lady Liberty on Lake Mendota as an annual Winter Carnival tradition. Winter Carnival brings wintertime fun to Madison In addition to the reappearance of Lady Liberty, Winter Carnival included more than 20 programs Jan. 31-Feb. 3. Put on by our team since 1940, Winter Carnival is a long-standing Wisconsin Union tradition of providing opportunities to take part in outdoor recreation and celebrate winter. Thanks, in part to this programming, on Feb. 2, alone, approximately 10,600 people visited Memorial Union, and the building had food and beverage sales in-line with a busy Terrace summer weekend day. This revenue will help us continue to make a difference and enhance the lives of members and visitors.
We are grateful to all who made this programming possible and look forward to bringing the Statue of Liberty back in 2020 along with other Carnival traditions and new events.
If you would like to learn more about how to support efforts like this in the future, please visit union.wisc.edu/donate, or contact Annual Gifts Manager Daniel Plummer at (608) 890-1997 or dplummer@wisc.edu.