Giving Priorities: An Interview with the Union's Annual Gifts Manager
Posted: 01/23/18
By Shauna Breneman, Wisconsin Union communications director
There's a place for us all at the Wisconsin Union, from a reflection room when you need a quiet place to escape from it all to an indoor climbing wall. No matter what kind of place the Wisconsin Union's Union South or Memorial Union is to you, there's one thing we all know: the Wisconsin Union is a place we all call home.
On behalf of the Union team, thank you for making this place and all the good our team does within it possible, in part, by your gifts to the Union each year.
I recently sat down with Dan Plummer, Wisconsin Union annual gifts manager, to talk about the Union's current giving priorities and how those priorities support experiences for a lifetime. Each priority was determined in collaboration with the Wisconsin Union Association Development Committee, Wisconsin Union team members and student leaders and through consultation with Wisconsin Union Director Mark Guthier.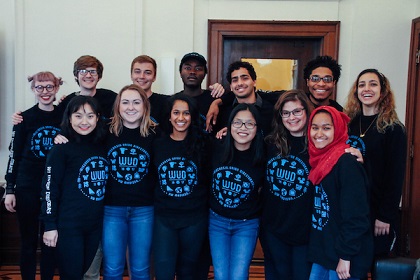 Wisconsin Union leadership scholarships, Annual Campaign

"Wisconsin Union student leaders created and implemented more than 2,300 events last fiscal year. What that adds up to is thousands of opportunities for lessons in everything from event management to contract negotiation. Our student leaders are the best of the best. Contributions to our annual campaign directly support students in their leadership pursuits while helping them complete their education at UW-Madison."-Dan Plummer


Wisconsin Union Theater Endowment

"We're approaching the 100-year anniversary of the Wisconsin Union Theater's Annual Concert Series. Donations to the Endowment will help us keep the high level of quality our members and guests have come to expect from this series. This also helps us offer UW-Madison students discounted tickets. This ease of access for our university's students is very important."-Dan Plummer


Hoofers Marina Project

"The piers that Hoofers use are almost 40 years old and are showing signs of natural wear and tear. So, we're investing in new ones that will allow us to enhance outdoor programming in an even safer setting. Plus, the new vision for the pier system will make room for a new greenspace along the shore of Lake Mendota. A lead gift has helped this become closer to reality, but we need more support to reach the finish line."-Dan Plummer
Plummer emphasized that now is the perfect to give and encourage others to give.
"We have several anniversaries coming up," Plummer said. "Our anniversaries are great reminders of who we are and all we offer the community. Giving is crucial to keeping these traditions alive."
Plummer also expressed thanks to Wisconsin Union Association trustees for their passionate support of the Wisconsin Union's giving priorities.
For more information about ways to support these priorities or to donate, please visit union.wisc.edu/donate, or contact Plummer at (608) 890-1997 or dplummer@wisc.edu.