A Place to Make an Impact
Posted: 03/27/17
For George Cutlip, the Wisconsin Union has been part of his life since the very beginning. His father Scott was a faculty member in the UW-Madison School of Journalism, and his mother Erna was an administrative assistant at Political Science. Naturally, they all spent many days at Memorial Union.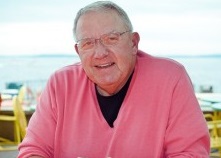 "My father deeply believed in the importance of education and how the Wisconsin Union contributes to all who attend the university," George said.
As the UW-Madison Division of Social Education, the Union is a multifaceted institution responsible for, among other things, helping students realize the importance of serving their communities and finding ways in which they can expand that service.
Today, George spends considerable time at Memorial Union and Union South. He serves as a Wisconsin Union Association trustee and in multiple other Union leadership roles. George also gives an annual charitable gift along with other special projects gifts to the Wisconsin Union in recognition of all the Union has done for everyone involved.
"This is a place where I know the contributions I make are put to good purpose. My gifts' impact is amplified through the work of all of us in the university community," George said. "A gift to the Union will have a positive impact on the entire university."
For information about some of the giving opportunities at the Wisconsin Union, please click here, or contact Dan Plummer, annual gifts manager, at (608) 890-1997 or dplummer@wisc.edu.