Wisconsin Union Basecamp Enjoys Successful Summer of Adventures for Incoming Students
Posted: 08/31/16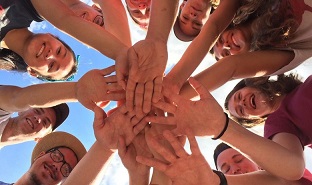 The wilderness orientation trips offered by Wisconsin Union Basecamp enjoyed tremendous success in 2016 with almost all trips completely full.
Basecamp offers an unconventional orientation for incoming freshmen and transfer students to begin their adventures at the University of Wisconsin-Madison (UW-Madison) through wilderness outings.
These trips give new Badgers a chance to explore the outdoors and get to know other new UW-Madison students.
One of these trips is a canoeing adventure down the Wisconsin River. Groups paddle down the border of our great state while learning the ins and outs of life at UW-Madison from trip leaders.
Another Basecamp offering is a backpacking expedition during which campers traverse the forests of the Porcupine Mountains. All backpacking trips were full in summer 2016.
Each trip is led by UW-Madison students with extensive backgrounds in outdoor sports and recreation. While their knowledge in all things wilderness does come in handy, their experiences as college students are what make them invaluable to the groups they lead.
Annie Eggert has led Basecamp trips for two consecutive summers. As someone who participated in the wilderness orientation trip as a freshman, Eggert has personally experienced the impact the program has on students.
"It gives students a chance to ask the leaders all the questions that they have," Eggert said. "That releases a lot of the anxieties they have about college and about the atmosphere of a BIG 10 school."
This unique approach to university orientation allows students to find their footing in a new environment by providing a comfortable setting for them to ask questions about classes, social life and balancing school and recreational activities.
Meanwhile, they make friends and feel more confident to begin their journeys as college students.
"The challenges students face while backpacking and canoeing through the wilderness allow them to bond in a way they wouldn't if they didn't participate in Basecamp," Basecamp Manager Julie Brown said.
The summer prior to the first year at college is often spent wondering what to expect, where to spend time and how to make friends. With Basecamp, students have the opportunity to explore, make friends and prepare for the adventure of being a Badger.
Learn more about Basecamp at union.wisc.edu/basecamp.