Member News & Specials
Be the first to learn about member-exclusive events and specials as well as the latest news about upcoming Union events such as music, lectures, and more. Staying informed is easy - just email us with your name and email address. 
Becoming a member of the Wisconsin Union comes with many benefits, including invitations to exclusive member-only theme events.
In September, members enjoyed an evening of artsy festivities complete with Wisconsin craft beer and snacks. Craft stations included screen printing a poster to look like a beer label, painting the Madison skyline and making pottery on the wheel.
Become a member to experience our next unique event.
---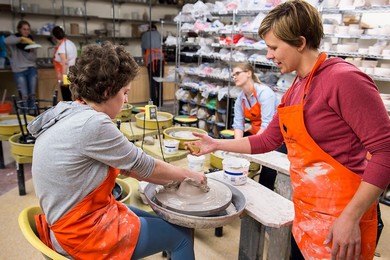 Wheelhouse Studios provides a creative space for members, students and community members. Members can also sign up for courses throughout the year.
Monthly studio passes to Wheelhouse Studios 
Annual studio passes, which includes twelve months of access to the studio
Member-only classes
---