Every Wisconsin Union member has a prized memory from their time spent at the heart and soul of UW-Madison. Whether it was watching a gorgeous Terrace sunset or trying your favorite ice cream flavor, every memory tells a story. Follow along as we start our new series Meet Your Members. Have an anecdote of your own you'd like to share? Email membership_union@wisc.edu
---
Union Member: Aaron Scharff
The Wisconsin Union has over 1,000 student employees who keep it thriving as the the "heart and soul" of the university. Three years ago as an undergrad, Union member Aaron Scharff got more than a paycheck when he worked at Der Rathskeller-he met his girlfriend, who he's still with today.
Although he and his girlfriend, Abbie Ernst, disagree on the first time they met, Aaron remembers meeting at an after work social with fellow Rath employees. After some digging around on Facebook, he found Abbie's profile and they chatted online before going on their first date. Both worked as tapsters at Der Rathskeller and the Brat Stand as they continued to date.
"We spent most of that first summer either working at the Rathskeller/Brat Stand or spending our evenings splitting a pitcher and some ice cream on the Terrace," Aaron said. "We still try to make it to the Terrace every chance we get. It's the most magical place in Madison and is our favorite spot in the city. Nothing beats watching the sunset over Picnic Point."
As a Union member, Aaron takes advantage of the benefits his membership provides.
"My favorite part about being a Union member is the connection I have to campus. The Union is always putting on fantastic events for both the public and members," Aaron said. "In undergrad I was a member of Hoofers, and now with my Union membership I have discounted access to three day sailing memberships and rentals from Outdoor UW."
When Aaron checked membership cards while working, he said he would see proud alum smile as they displayed their membership cards dating back to the 60s or 70s. Today, Aaron gets to share that same smile when he visits.
"Working at the Union gave me some of the best memories of my undergraduate career," Aaron said. "It's also introduced me to the love of my life. Three years in and still going strong."
---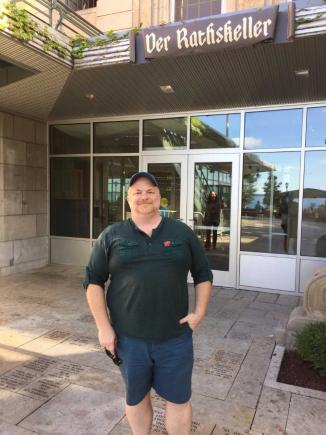 Union Member: Greg Oppel
Why did you become a Wisconsin Union member? It was a gift from my parents back in 1995.
What is your happiest Union memory? All of the times I've come to the Terrace to see the sunset.
What is your favorite Union tradition? Getting a muffin or popcorn, something to drink and seeing a show at the Wisconsin Union Theater.
How would you describe your Wisconsin Union experience? Peaceful: Many different memories made, it has been the center of life on campus.
---
Union Member: Virginia "Ginger" Crownhart Brenneis
Why did you become a Wisconsin Union Member? In 1964 I was given a membership, as I was the Social Committee Chair in the days of Porter Butts.
What is your favorite Union memory? I would come to the Union Theater with my mother. My parents were active in the 1930s with the Union and met here.
Is there anything you want to share about your Union experience? I'm envious of the people who got paver tiles-so we have purchased a paving stone commemorating our family's association with the UW since 1889. Memorial Union has a beautiful view of the lake, and it's the best college Union.
---
Union Member: Janie Johnson
How long have you been coming to the Terrace? 40+ years. I became a member because I worked here for 32 years.
How would you describe your Terrace/Union experience? I've loved it. Working with students and student organizations kept me thinking I was young.
What is your happiest Union/Terrace memory? I loved working here-it's a family. Also, we have five marriages that occurred between students who met in the Union Travel Center.
Is there anything you want to share about your Union experience? It's a wonderful place to work, volunteer and become part of a family.