The Wisconsin Union is the premier place on Lake Mendota to store your sailboat! Outdoor UW is in charge of three mooring fields on the southern shores of Lake Mendota. Mooring field #1 is right off the Memorial Union Terrace with 45 pins. Mooring field #2 is north of Goodnight and Vel Phillips Halls with 16 pins. Mooring field #4 is near the outlet of Willow Creek with 6 spaces. We can take boats up to 10,000lb in displacement and depending on location, can provide boat access to moorings.
Vacant moorings are available through an application process: view application (found below) to understand our terms and conditions and apply to the waitlist by filling out our waitlist form. For more information please contact Outdoor UW at outdooruw@union.wisc.edu or 608-262-1630.
Important Documents
---
Crane Operations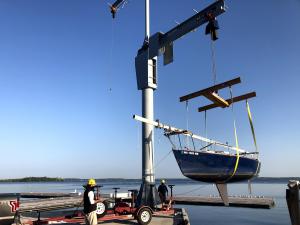 Outdoor UW has a 5-Ton capacity crane for lifting boats in and out of the water. The crane can be scheduled for group lift-operations or on one-off occasions. For more information please contact the Sailing Program Manager.
Spring Lift In: 5/6/23
Please sign up here: https://members.hoofers.org/event/95608
Fee Structure
Scheduled Lift Fee $125.00 + Tax
Off-Scheduled Lift (requires two weeks notice): $175.00 + Tax
Unscheduled/Emergency Lift: $350.00 + Tax
Four Lifts (requires two weeks notice per lift): $350.00 + Tax
Mast Only (must schedule two weeks ahead): $100.00 + Tax
Group/Organization Lifts: Please call for pricing.