Wisconsin Union officers to kick off monthly open house events
Posted: 11/10/16
Wisconsin Union Directorate (WUD) officers invite the campus community to attend monthly open house events beginning Nov. 11 from 11 a.m. to 3 p.m. to discuss campus issues and multi-organization collaboration in a welcoming environment.
The officers will hold future open houses at various times and on various days of the week to ensure as many community members as possible have the opportunity to attend and speak with the WUD leaders. The Wisconsin Union team will provide light refreshments at each event for its guests.
WUD is the Wisconsin Union student programming board. The board plans, organizes and hosts a variety of programs and events across the University of Wisconsin-Madison campus.
The WUD officers present at each open house will be Deshawn McKinney, president; Lily R. Hansen, vice president of external relations; and Adan Abu-Hakmeh, vice president of internal relations.
"We want to offer a space where officers are available for questions, comments and concerns about the Union and campus issues," Hansen said.
For additional information about this effort, please contact Hansen at directorate@union.wisc.edu.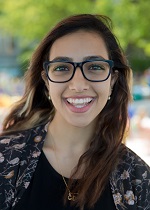 Deshawn McKinney Lily R. Hansen Adan Abu-Hakmeh