Acclaimed Verona Quartet to perform for Wisconsin Union Theater patrons Jan. 29
Posted: 01/14/21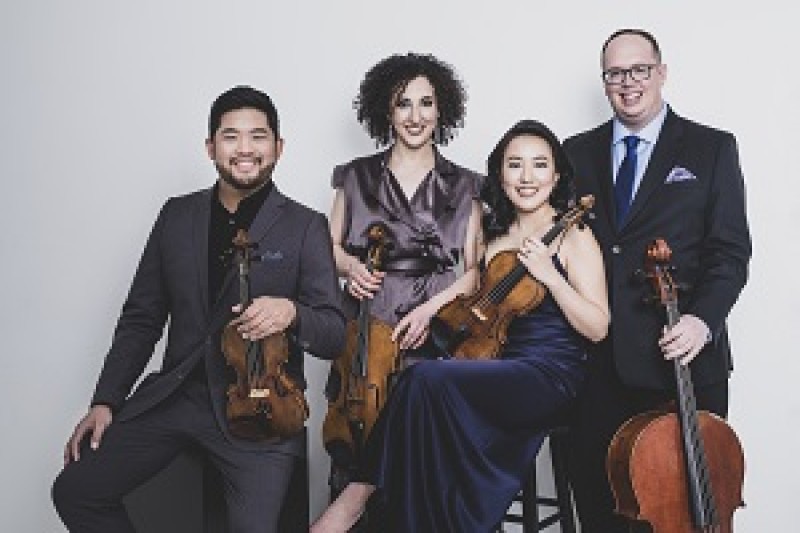 The Wisconsin Union Theater's Concert Series will continue with a performance by the Verona Quartet on Jan. 29 at 7:30 p.m. CDT, which will be preceded by a question-and-answer session with the Quartet at 7 p.m. CDT.
The Quartet will perform String Quartet in A Minor, Op. 51, No. 2 by Johannes Brahms and String Quartet No. 12 in F Major, Op. 96 "American" by Antonín Dvořák.
The Verona Quartet rose to international fame by sweeping top prizes at competitions, including the Chamber Music America's Cleveland Quartet Award in 2020.
Hailing from four different parts of the world, differences unify the Quartet's members and music. Its music aims to show how diverse experiences can come together in harmony.
"The Verona Quartet brings fresh approaches to classical music masterpieces," Wisconsin Union Theater Director Elizabeth Snodgrass said. "The Quartet has risen to become one of the world's most sought-after string quartets. We are honored to include them in our Concert Series season."
Ticket purchase information can be found here. Tickets for this online event are $10 for UW-Madison students, $17 for Wisconsin Union members and students that do not attend UW-Madison, and $20 for all other patrons.
The performance will include the Quartet's violinists Jonathan Ong, Dorothy Ro, and Abigail Rojansky. Due to challenges related to the pandemic, Quartet member and cellist Jonathan Dormand will not be part of the event. Instead, cellist Dmitry Kouzov will perform the String Quartet in A Minor, Op. 51, No. 2 with the Quartet, and cellist Annie Jacobs-Perkins will perform the String Quartet No. 12 in F Major, Op. 96 "American" with the ensemble.
The Verona Quartet's performance is made possible by the David and Kato Perlman Chamber Music Endowment Fund with additional support from the Wisconsin Arts Board with funds from the State of Wisconsin and the National Endowment for the Arts.
An additional Concert Series performance will occur Feb. 28 at 7:30 p.m. CDT and feature the Meccore Quartet.
For more than 75 years, the Wisconsin Union Theater has served as a cultural center for community members and visitors and provides a variety of performing arts events. The Theater's Concert Series began more than a century ago and is one of the oldest uninterrupted series of its kind in the United States.
The Wisconsin Union Theater team presents the Concert Series in collaboration with the student-led Wisconsin Union Directorate (WUD) Performing Arts Committee.
The Theater team strives for all of its spaces to be accessible, and those that need accommodations can reach out to the Wisconsin Union Theater team at wisconsinuniontheater@union.wisc.edu.
For more information about the Verona Quartet, including how to purchase tickets, visit union.wisc.edu/events-and-activities/event-calendar/event/verona-quartet.