Wisconsin Union breaks ground on Tong Family Marina
Posted: 09/20/18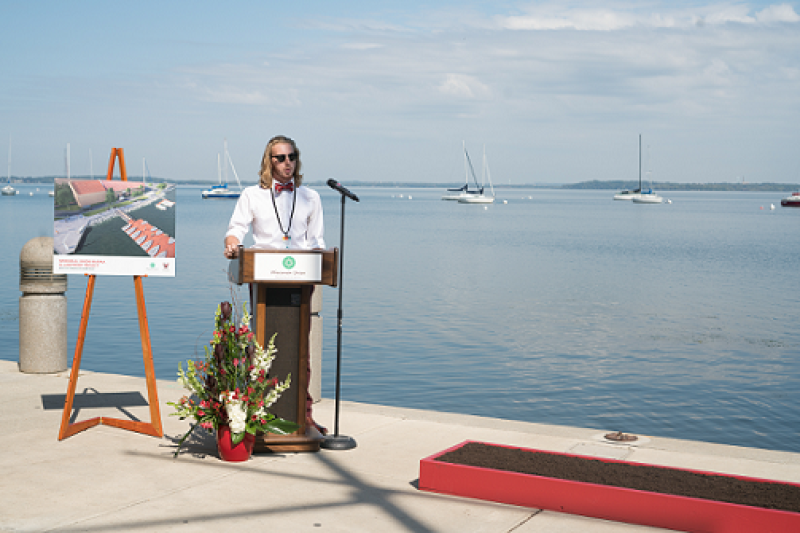 The Wisconsin Union team held a ceremonial groundbreaking for the future Tong Family Marina Sept. 15 along the Memorial Union lakefront, marking the beginning of the replacement of a 40-year-old pier system used by the Union's Wisconsin Hoofers and Outdoor UW.
The donor-funded, new pier system will enhance safety, increase boat storage efficiency, allow for the creation of a new park, and provide more on-land space for programming. The new pier system is expected to debut in summer 2019.
"This new marina will provide access to Lake Mendota in a safe, efficient, welcoming way that will allow many generations of sailors to experience the indescribable joy of sailing for decades to come," Wisconsin Union President Mills Botham said.
More than 60 project supporters joined the Wisconsin Union team for the groundbreaking ceremony, including Janet and Peter Tong and their children Sarah Sangmeister, Jennifer Tong Carlisle '94, Jessica Tong Baron and David Tong '05.
The Tong family's $1 million gift to the Wisconsin Union along with the support of other generous donors helped make this marina possible. No taxpayer dollars are being used for this project.
"This lakeshore is absolutely iconic to Madison and to the university, and it is absolutely worthwhile to continually update its infrastructure and give it some love," Peter Tong said.
The new state-of-the-art floating t-pier system will house the Wisconsin Sailing Team's fleet of 420s and Badger Techs, freeing space along Lakeshore Path for new 330-foot-long by 24-foot-wide green space. In addition, a new crane will facilitate more efficient transport of boats to and from the water.
"We are extremely proud to be here today to mark this point in time, when the Wisconsin Union – along with our friends and supporters – commits to many more decades of outdoor recreational excellence by breaking ground on this impressive project," Wisconsin Union Director Mark Guthier said during the Sept. 15 groundbreaking.
These improvements will benefit thousands of individuals who will use the pier system throughout the summer, including more than 1,000 Hoofer Sailing Club members, including youth who participate in the Club's summer youth program. The Club has provided affordable, accessible sailing equipment and instruction, including lessons in keelboat sailing and wind surfing, to its members since 1939.
The Club also creates community programs, such as an annual free sailing event for 50 athletes from Special Olympics Wisconsin and their coaches or parents.
The new piers will also be used by other members of the Wisconsin Hoofers' clubs as well as Outdoor UW customers, who can rent stand-up paddleboards, kayaks or canoes as well as take stand-up paddleboard yoga classes on Lake Mendota.
Those interested in learning more about or donating to the Marina Project may visit union.wisc.edu/get-involved/donate.