U.S. street dance and classical percussion combine in Third Coast Percussion + Movement Art Is's 'Metamorphosis' on Jan. 27
Posted: 12/16/21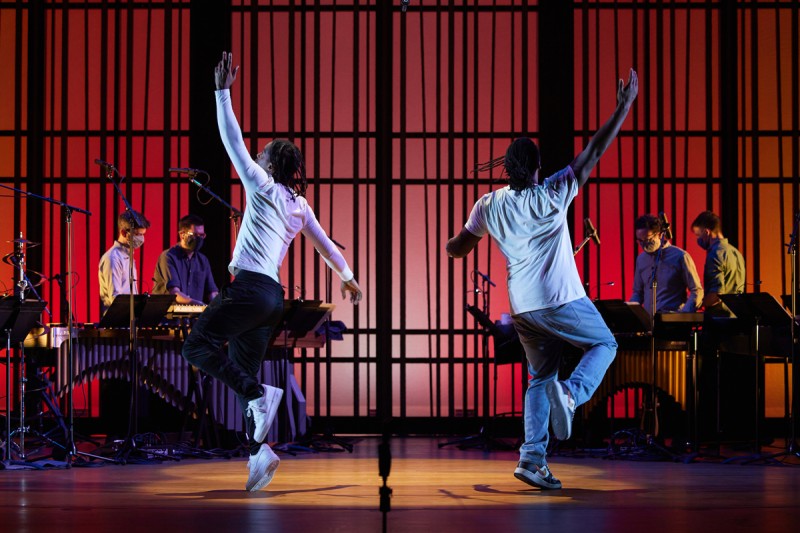 What does the world look like to you? And how do where you're from and your experiences shape that? Those are the questions that GRAMMY-winning percussion quartet Third Coast Percussion and legendary dance organization Movement Art Is will explore on Jan. 27, 2022, at 7:30 p.m. CDT at the Hamel Music Center as part of the Wisconsin Union Theater's Concert Series.
The emotional, dynamic program, called "Metamorphosis," incorporates groundbreaking U.S. street dance choreography with contemporary classical percussion in a dynamic performance that examines the duality of human nature. The ensembles illustrate themes through the experiential lens of young Black men growing up in the United States. The performance will feature music by Jlin and Tyondai Braxton as well as Third Coast Percussion's arrangements of Philip Glass's "Águas Da Amazônia."
"'Metamorphosis' is mesmerizing from start to finish, with beauty in music and movement, layers of meaning, and many stories woven throughout the program," Wisconsin Union Theater Director Elizabeth Snodgrass said. "Third Coast Percussion and Movement Art Is profoundly tell stories, such as the journey to self-acceptance, embracing what makes each of us special and unique, and experiences of fear and pain."
The program includes movement by Cameron Murphy and Quentin Robinson, choreography by Movement Art Is Co-founders Jon Boogz and Lil Buck, lighting design by Joe Burke, and stage direction by Leslie Buxbaum Danzig.
University of Wisconsin–Madison Professor Anthony Di Sanza and the Mead Witter School of Music are providing the percussion instruments for the performance. Third Coast Percussion will also take part in an educational workshop with UW–Madison percussion students on Jan. 28, 2022.
Patrons can purchase tickets to the in-person performance or to the online livestream of the event on the event webpage or at the Memorial Union Box Office. Tickets range from $10-45. 
Third Coast Percussion + Movement Art Is's performance is part of the 102nd year of the Wisconsin Union Theater's Concert Series, the longest-running classical music concert series in the Midwest. The Series will continue with the Brentano String Quartet on Feb. 10, 2022, and Pacho Flores with the UW Symphony Orchestra on March 5, 2022. 
The Mead Witter School of Music operates the Hamel Music Center and follows the University's policies to create a safe, enjoyable environment with the highest cleaning and sanitation standards. 
Currently, by UW-Madison Office of the Chancellor order, all must follow the UW–Madison health and safety protocol of wearing a face covering when indoors, unless actively eating or drinking. Performers may be granted an exemption to wearing masks pending approval by the provost. As an additional health and safety measure, performers will be more than 20 feet from the first row of the audience. The Wisconsin Union Theater and the Mead Witter School of Music appreciate patrons' help with creating a safe concert-going experience. 
Click here for more information about the Third Coast Percussion + Movement Art Is performance.