Online ordering for Wisconsin Union's Thanksgiving To Go available now
Posted: 11/03/21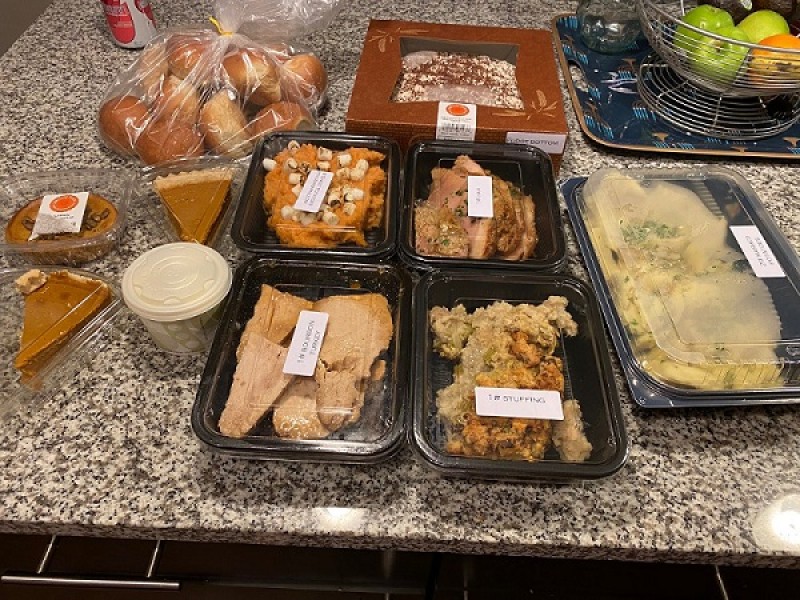 Now through Nov. 17 at 3 p.m. CDT, or while supplies last, Wisconsin Union customers can order Thanksgiving to Go, a tradition aimed at providing Wisconsin Union members; University of Wisconsin-Madison students, staff, and faculty; and the greater Madison community with ease and efficiency for their holiday celebrations. Patrons can place their orders through the Thanksgiving To Go website and pick up their meals on Nov. 24. 
This year's entree options include bourbon roast turkey, gingersnap mustard glazed ham, or a vegetarian creamy butternut squash lasagna, and side options include sage stuffing, turkey gravy, mashed potatoes, mashed sweet potatoes, herbed green beans and carrots, house-made cranberry orange relish, and a dinner roll with butter. Each meal also comes with a choice of pumpkin, pecan, or fudge bottom pie. 
At the Thanksgiving To Go website, customers can select menu items and quantities as well as a 30-minute time period for pickup in Tripp Commons, located on the second floor of the Union's Memorial Union. Options include a personal meal for one, a family meal for six, and à la carte items. Meals will be cooked, chilled and packed in reheatable containers.
Personal-sized meals are available for $15 each, while the family-sized meal options start at $145. Payments can be made by credit card or Wiscard. Current University of Wisconsin-Madison students paying with a Wiscard can purchase a personal meal for a discounted price of $12. Credit card payments will be processed online, and Wiscard payments will be processed on-site at the time of pick-up. 
The Union team is grateful for the opportunity to continue to offer Thanksgiving To Go. Through this effort, the team aims to provide campus and community members with a financially-friendly, gourmet, delicious meal option that eliminates preparation and clean-up stress. 
In 2020, the Wisconsin Union partnered with the Dean of Students Office to provide meals to students experiencing food insecurities, both at Thanksgiving and throughout the year.  Last year, Thanksgiving To Go participants donated $3,375 to the cause, and this partnership will continue this year.
Those interested in ordering a Thanksgiving To Go meal can visit union.wisc.edu/thanksgiving.