Sunburst Chairs Will Come Back To Memorial Union Terrace April 24
Posted: 04/23/18
The sunburst chairs will return to the Wisconsin Union's Memorial Union Terrace April 24 at 4:30 p.m., and UW-Madison students and community members are invited to take part in their return.
April 24 will mark the start of Terrace season, an almost-90-year-old Madison tradition at one of Wisconsin's most iconic summer destinations.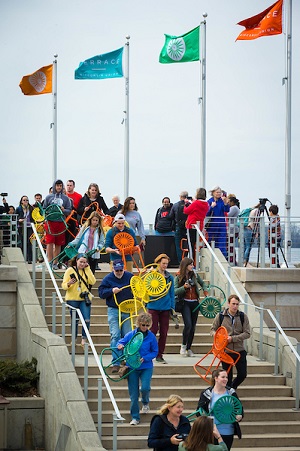 To kick off the season, those interested in bringing back the chairs are invited to line up at the North Park Street entrance to the Terrace on April 24 at 3:30 p.m. Each person in line will pick up a chair to take onto the Terrace and enjoy the first Friday evening of the 2018 Terrace season.
Leading the return of the chairs at 4:30 p.m. will be student leaders and members of Wisconsin Union Directorate (WUD) committees, including 2017-18 Wisconsin Union President Iffat Bhuiyan.
"Terrace season means it's time to start building connections, having a good time, running into past friends, and enjoying some sun," Bhuiyan said. "I am looking forward to seeing the Terrace full of people with their friends and family."
This year's first day of Terrace season will include free ice cream for the first 500 Terrace-goers, and free small bags of popcorn at der Stiftskeller from 4:30-7 p.m., which is provided by the University of Wisconsin-Madison class of 2018.
WUD student leaders plan, promote and run most of the programming that occurs on the Terrace each year, including Terrace After Dark, WUD's free music and film series.
Terrace After Dark music programming kicks off on graduation weekend, with Gin, Chocolate & Bottle Rockets on Friday, May 11 and the Clyde Stubblefield Tribute on Saturday, May 12. The Union will show free films every Monday, from Memorial Day through Labor Day, as well as five Sunday nights: June 10 and 24; July 8 and 22; and August 5.
These student leaders together with the Wisconsin Union staff work to create opportunities for Terrace fun for everyone. The Wisconsin Union team also works to create dining options everyone can enjoy, with 11 restaurants and cafes at Memorial Union during Terrace season.
On April 24, food and beverages may be purchased at der Rathskeller, Strada, Carte, the Daily Scoop, Peet's Coffee, Badger Market or der Stiftskeller. The Brat Stand, the BBQ Stand, Lakeview Lounge and Sunset Lounge will open later this spring. Purchases made at the Terrace, Memorial Union, Union South and other Wisconsin Union dining locations across campus help support all of the student-led events and activities on the Terrace and at the Union each year.
More information about this year's Terrace season programming, including Terrace After Dark; Lake Mendota paddling rentals and outdoor yoga classes; free board games rentals; paint and craft nights; and more can be found at TerraceSummer.com.