Madison-based clubs teaming up to host Swing Dance Night at the Terrace, a free dance, dance instruction and music event, on July 30
Posted: 07/07/23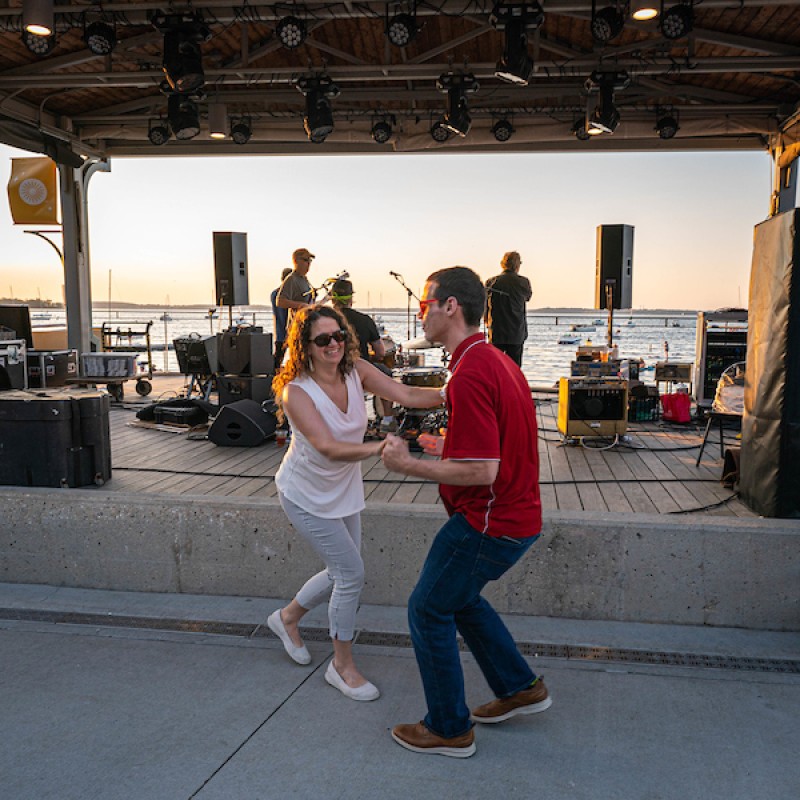 A new free event, called Swing Dance Night on the Terrace, will come to the Memorial Union Terrace on July 30 from 7-10 p.m. and feature swing music by All That Jazz Little Big Band and swing dance instruction hosted by the Wisconsin Union Directorate (WUD) Music Committee, the Hoofer Sailing Club and the Madison Swing Social Dance Club.
Set to take place at the 40,000-square-foot outdoor dining and entertainment destination the Memorial Union Terrace, the event will feature large group demonstrations and lessons by instructors from 7-10 p.m. and live music by All That Jazz Little Big Band from 7:30-10 p.m. No dance experience is necessary, and guests can arrive at any time throughout the event to take part.
The outdoor event has capacity for thousands of guests. Seating and participation are available on a first-come, first-served basis.
While attending, guests can also enjoy on-site dining options that support thousands of free and low-cost events held at Memorial Union and Union South as well as student leadership opportunities. On-site dining options are anticipated to include pub food at der Rathskeller; house-made BBQ fare from the BBQ Stand; pizza and pasta from Strada; desserts from the Daily Scoop; pizza and appetizers from Lakeview Lounge; and more.
In the case of inclement weather, the clubs anticipate moving the event to the music and dining area der Rathskeller in Memorial Union, which is located alongside the Memorial Union Terrace.
"Guests can enjoy this event in multiple ways, from learning swing dance skills from instructors to just listening to a great live swing music performance," Hoofer Sailing Club Commodore Catherine Gross said. "Swing Dance Night on the Terrace brings together live music, dance and the outdoors for a fun night for people of many ages and all dance skill levels."
The WUD Music Committee hosts free concerts throughout the year at Union South and Memorial Union. Those interested in attending future Committee-hosted events can learn more about the team's lineup at union.wisc.edu/music. Those interested in learning about other ways to enjoy the outdoors, including sailing lessons through the Hoofer Sailing Club, can visit hoofers.org. The Hoofer Sailing Club is open to all 18 and over, including those with no UW–Madison affiliation. The Madison Swing Social Dance Club provides other events throughout the year and offers ways for members to improve their dance skills or to step into the world of dance. UW–Madison students can learn more about joining the Madison Swing Social Dance Club at madisonswing.weebly.com.
More information about Swing Dance Night on the Terrace is available at union.wisc.edu/swingdance.