South African gospel choir will perform songs in celebration of freedom and civil rights Oct. 8 in Madison, Wis.
Posted: 09/23/22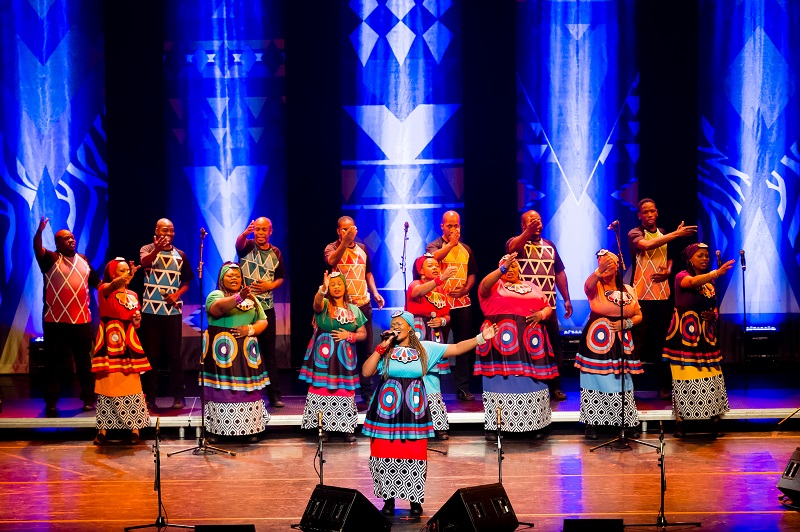 The Soweto Gospel Choir will perform a new program, called, "Hope - It's Been A Long Time Coming," on Oct. 8 at 7:30 p.m. in Shannon Hall in commemoration of South Africa's Freedom Movement and the Civil Rights Movement in the United States.
The three-time GRAMMY Award-winning ensemble will open the show with South African freedom songs and then move into music of the Civil Rights Movement, including works by artists James Brown, Otis Redding, Curtis Mayfield and Aretha Franklin.
The Soweto Gospel Choir celebrates African gospel music and brings more than 50 artists from churches in and around Soweto, South Africa, together on stages across the world. The Choir is known around the world with its powerful blend of African gospel, freedom songs and international classics.
Patrons can purchase virtual and in-person tickets online, by phone at (608) 265-2787 or in-person at the Memorial Union Box Office. Wisconsin Union members, guests under the age of 18, and University of Wisconsin–Madison students are eligible for discounted tickets.
"The Soweto Gospel Choir has been touring worldwide for almost 20 years. It brightens people's lives with its artists' talents and stories wherever it goes," Wisconsin Union Theater Director Elizabeth Snodgrass said. "The spirit and energy its singing and dancing put into the world are infectious. People won't be able to stay in their seats."
The Wisconsin Union Theater presents this performance as part of its 2022-23 season, which also includes jazz, dance and classical music performances.
The Wisconsin Union Theater team presents the 2022-23 season in collaboration with the UW–Madison student-led Wisconsin Union Directorate (WUD) Performing Arts Committee. Ticket revenue and purchases from the Wisconsin Union Theater and the Wisconsin Union's Memorial Union partly support WUD professional development experiences.
Patrons can click here to learn more about the Soweto Gospel Choir performance.