Midwest's largest ski swap, Hoofer Ski and Snowboard Resale, returns for its 59th year Dec 2-3
Posted: 11/03/23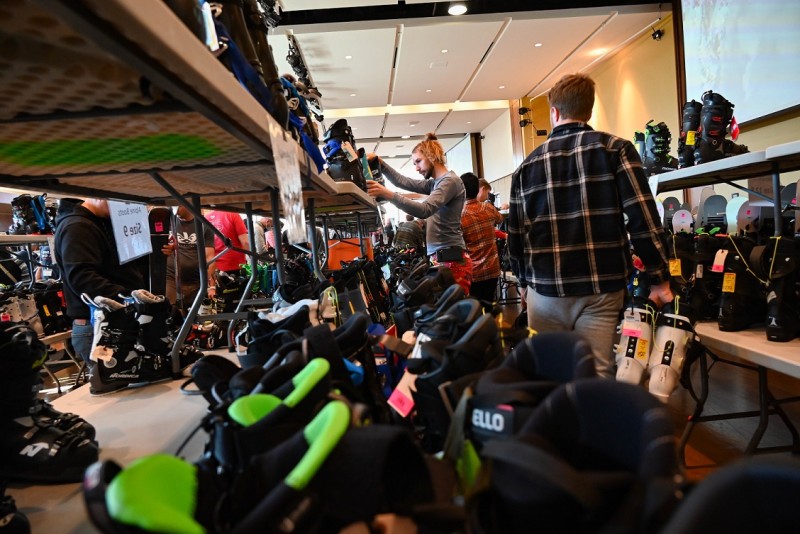 The Hoofer Ski and Snowboard Resale, presented by the Hoofer Ski and Snowboard Club, is back for its 59th year at Union South's Varsity Hall on Dec. 2 from 8 a.m. to 5 p.m. and Dec. 3 from 8 a.m. to noon in Madison, Wisconsin.
The annual outdoor recreation equipment sale gives customers the opportunity to purchase discounted fall and winter outdoor recreation items, such as skis, snowboards, jackets, boots, snow pants, helmets and goggles – or buy and sell new and gently used items from community members.
This year's vendors include Fitzharris Ski, Bike, and Outdoors; Wayne's Ski and Sport; Lakewood Ski and Sport; Shepherd and Schaller Sporting Goods; Sol Alpine; and Expedition Supply.
Following the event, the Wisconsin Hoofers will showcase a free screening of "Abstract: A Freeski Collective" on Dec. 5 at 7 p.m. at the Marquee Cinema in Union South. The film details some of the world's most creative freeskiers showcasing daring tricks in places around the world.
"Resale is so important to our club, and it brings so many people together," said Drew Gross, Hoofer Ski and Snowboard Club president. "It is a way in which we can help expand the sport and get new people into skiing and snowboarding at an affordable cost."
The Hoofer Alpine Ski Team will be offering waxing or tuning services for $20 each, or $30 for both waxing and tuning. The Hoofer Nordic Ski Team will offer a waxing service for $15. Pricing is per snowboard or pair of skis.
Community members interested in selling their new and gently used gear can bring up to 10 items per person to the Industry and Agriculture Rooms in Union South Nov. 30 from 5-8 p.m., or Dec. 1 from noon-8 p.m. Event volunteers will review items for approval and can assist with pricing items and monitoring items for sale. A portion of each re-sold item purchase will go toward supporting the Hoofer Ski and Snowboard Club.
All other purchases will support the Hoofer Ski and Snowboard Club as well as its Alpine, Nordic and Freestyle ski teams, supporting countless student leadership opportunities and funding the club's Big Brothers Big Sisters ski trips, where children from the local nonprofit are matched with volunteers to enjoy a day of skiing together.
Customers may pay with credit card (Discover, Visa, Mastercard), debit card, Wiscard or cash.
Anyone 18 or older may join the student-led Hoofer Ski and Snowboard Club, as well as five other outdoor recreation clubs that make up the Wisconsin Hoofers. People can join a Hoofers club by visiting the Outdoor UW office on the lower level of Memorial Union, calling (608) 262-1630, or making a membership purchase online.