A performance fit for a prince and princess: 2018 royal wedding cellist Sheku Kanneh-Mason to perform in Madison Nov. 3
Posted: 10/24/23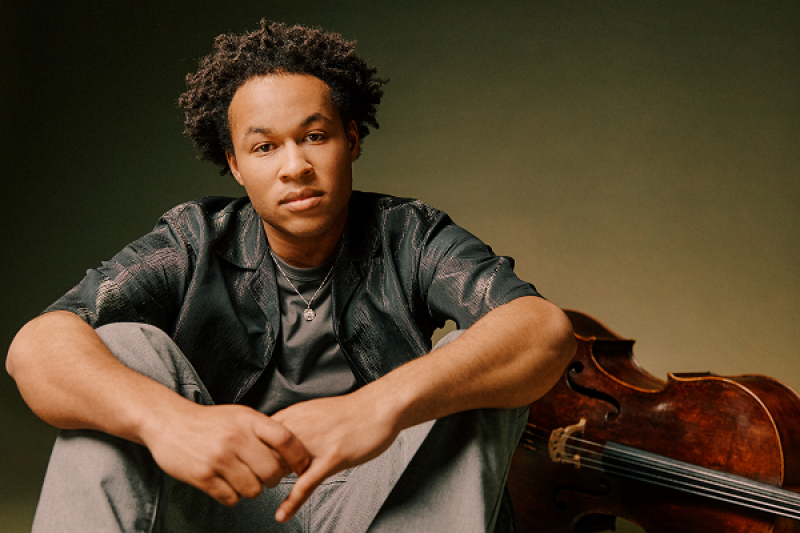 Cellist Sheku Kanneh-Mason performed at the royal wedding of Prince Harry and Meghan, the Duke and Duchess of Sussex, and, on Nov. 3 at Memorial Union in Madison, Wisconsin, audience members can experience the artistry that led to a personal phone invitation from the Duchess of Sussex to perform at her nuptials.
Playing an 18th-century cello crafted in Venice, Italy, Sheku will perform Suite for Solo Cello No. 2 in D minor by Johann Sebastian Bach, "Prayer for the Senses" by Gwilym Simcock, Suite for Solo Cello No. 1 by Benjamin Britten, Sonata for Solo Cello No. 2 by Leo Brouwer, Five Preludes for Solo Cello by Edmund Finnis, and Suite for Solo Cello by Gaspar Cassadó.
This performance is presented by the Wisconsin Union Theater (WUT) and the student-led Wisconsin Union Directorate Performing Arts Committee.
Kanneh-Mason began playing the cello at 6 years old and has gone on to be the first Black musician to win the BBC Young Musician of the Year Award and to become the youngest classical musician and the first cellist to rank in the Official U.K. Albums Chart Top 10.
"I love music," Kanneh-Mason said. "I've always just been very fascinated by it."
He has released three albums with Decca Records: "Inspiration" in 2018, "Elgar" in 2020, and "Song" in 2022, with more than 100,000 copies being sold worldwide. His albums span centuries and genres.
Less than five months after the release of his first album, he received a royal invitation from the now-Duchess of Sussex after she and the Duke of Sussex heard him play at a charity event. Almost 2 billion people watched him as he performed at the royal wedding in May 2018.
"Any performance, no matter the audience, I guess, I still have the same mindset of communicating this piece of music that I've been working on and thinking about a lot," Kanneh-Mason said about the experience in an interview with GQ.
"It's so fortunate that Sheku's internet fame from the royal wedding broadcast let the world know about him," WUT Director Elizabeth Snodgrass said. "That event really catapulted him to be a household name. I've had multiple audience members ask me, 'Can you get Sheku? Please bring Sheku to the classical series!' I'm glad we could deliver on that request this year; it will be a special performance."
His performance is part of the WUT 2023-24 Classical Series, which features chamber music stars and stars on the rise. Other WUT season events include dance, international music, jazz, and chamber music.
Patrons can save 20% on WUT season events through the brand-new build-your-own subscription options of three to five events for 15% off or six or more events for a 20% discount.
Patrons can purchase tickets to Kanneh-Mason's performance online, at the Memorial Union Box Office, or by phone at (608) 265-2787.