GRAMMY-winner Sō Percussion will perform modern chamber music with Pulitzer Prize-winner Caroline Shaw on Nov. 5
Posted: 10/28/22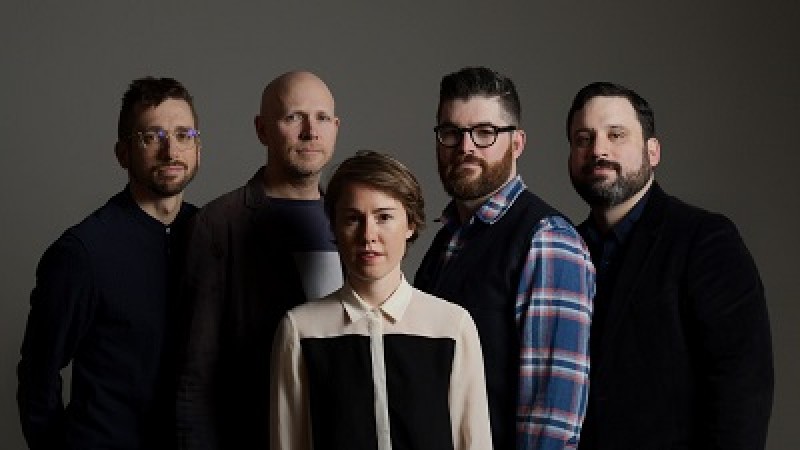 Wisconsin Union Theater patrons have the opportunity to experience a night of moving and ear-expanding music from leading stars of the new indie classical scene Sō Percussion and Caroline Shaw on Nov. 5 at 7:30 p.m. CDT online or in Shannon Hall at Memorial Union.
The event will feature performances of songs from Pulitzer Prize-winner Caroline Shaw's and Sō Percussion's 2022 album collaboration "Let the Soil Play Its Simple Part" as well as works from Sō Percussion's meditative 2006 album "Amid the Noise."
"Let the Soil Play Its Simple Part" came about when Sō Percussion and Caroline Shaw, who have known each other since their student days, experimented with their music in the studio, and over the course of a few days, it became a fully-fledged album released in June 2022.
For the album, vocalist, composer, producer and violinist Shaw along with producers, composers and musicians Eric Cha-Beach, Josh Quillen, Adam Sliwinski, and Jason Treuting brought together a range of influences and inspirations, including writings by poet and novelist James Joyce and poet Anne Carson; the Book of Ruth; music from the American folk tradition Sacred Harp; the early bluegrass song "I'll Fly Away"; and pop music by 1970s superstars ABBA.
This album marks Shaw's crossover debut as a solo vocal artist and the continuation of an award-winning career as a composer for ensembles, including the Attacca Quartet, Brooklyn Rider, and the Los Angeles Philharmonic, and as a performer with the avant-garde vocal ensemble Roomful of Teeth.
"I hadn't written very many songs, but I have certainly loved many in my life. I've been thinking of making a solo album for seven or eight years, but it takes having the right friends and community in the room," Shaw says. "The prompt for all of us was: What would we make in the room together with no one person in charge, like a band writes in the studio?"
A release with additional information about the album can be read here.
Sō Percussion's album "Amid the Noise" debuted in 2006 and balances experimentalist bedlam with virtuosic precision in its thoughtfully modern take on what a chamber music concert can be. Called an indie-electronica project, "Amid the Noise" layers melody, harmony, and rhythm into a sublime journey on a unique classical music path.
"Awe-inspiring does not begin to describe the musical creations of Sō Percussion and Caroline Shaw," Wisconsin Union Theater Director Elizabeth Snodgrass said. "These artists are proof of chamber music's timeless beauty and ability to evolve with a marrying of traditional precision and imaginative experimentation."
Tickets to this unforgettable virtual and in-person performance can be purchased online, by phone at (608) 265-2787 or in person at the Memorial Union Box Office. Wisconsin Union members, guests under the age of 18, and University of Wisconsin–Madison students, staff and faculty are eligible for discounted tickets.
The Wisconsin Union Theater presents this performance as part of its historic chamber music series, called the Concert Series. The Concert Series also features performances by Geneva Lewis with Evren Ozel on Jan. 27, 2023; Imani Winds on Feb. 5, 2023; Anthony McGill with the University of Wisconsin–Madison Symphony Orchestra on April 4, 2023; and the Danish String Quartet on April 18, 2023.
Other 2022-23 Wisconsin Union Theater events include performances by Cory Henry on Nov. 3; the American Patchwork Quartet on Nov. 17; PILOBOLUS Big Five-OH! on Feb. 1, 2023; Cécile McLorin Salvant on Feb. 7, 2023; Samara Joy on Feb. 16, 2023; and Immanuel Wilkins on March 25, 2023.
The Wisconsin Union's Wisconsin Union Theater and the Wisconsin Union Directorate (WUD) Performing Arts Committee proudly co-present this and other 2022-23 Wisconsin Union Theater performances. The students and staff greatly appreciate patrons' support of the arts and student leadership opportunities through the purchase of Wisconsin Union Theater tickets and their purchases at Memorial Union and other Wisconsin Union retail and dining operations.
Patrons can click here to learn more about the Nov. 5 event featuring Sō Percussion with Caroline Shaw.