2023 Summer paddling experiences have begun at lakeside Outdoor UW
Posted: 06/27/23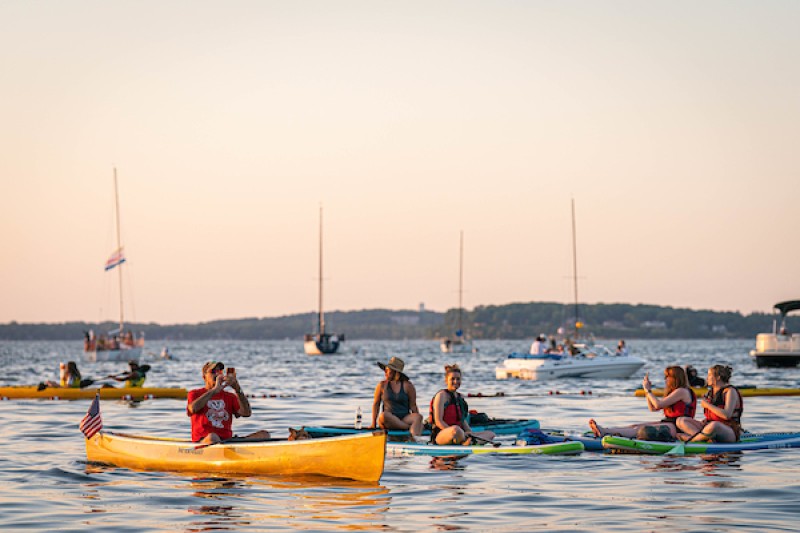 The Outdoor UW team has launched its summertime experiences in downtown Madison, including new services and events.
The Wisconsin Union's outlet to the outdoors, Outdoor UW, has begun offering its traditional summer paddling rentals, including single and tandem kayaks, canoes, one-person and eight-person stand-up paddleboards; event traditions, such as Family Nights on Lake Mendota and yoga classes in partnership with University Recreation and Wellbeing; and storage of privately owned kayaks and canoes.
New to Outdoor UW's offerings are hiking trips that end with beverages at the outdoor entertainment and dining destination the Memorial Union Terrace; paddling lessons; paddling excursions to Picnic Point, a peninsula along Lake Mendota's shore; custom outdoor learning opportunities; rentals of a 6-foot by 9-foot floating swim pad; and rentals of new sleeping bags that aim to keep people warm when temperatures drop down as low as 15 degrees Fahrenheit.
Patrons can register for scheduled events and reserve outdoor recreation equipment online, by phone at (608) 262-1630, or by email. Patrons can also call or email the Outdoor UW team to discuss scheduling a private outdoor recreation event or creating custom private outdoor experiences for their family, friends or team.
The team also expanded its Lake Mendota-facing live music event series, called Lakefront Live, which it presents in collaboration with the student-led Wisconsin Union Directorate Music Committee.
The Outdoor UW team offers year-round camping, hiking and climbing equipment rentals as well as outdoor learning and exploration opportunities. Its wintertime services include snowshoes and ice skates rentals as well as seasonal events.
"Whether someone is an avid outdoors person or is just starting to dip their toes into outdoor recreation experiences, we are ready to be their outlet to the outdoors," Outdoor UW Director Dave Elsmo said.
The Wisconsin Union has a decades-long tradition of providing outdoor recreation experiences to community members and visitors, such as through six outdoor recreation clubs that make up an organization called the Wisconsin Hoofers, including the Hoofer Sailing Club, which provides access to sailing lessons on Lake Mendota. Headquartered at Outdoor UW and advised by the Outdoor UW team, all 18 and over can join the Wisconsin Hoofers and become part of a community of outdoor enthusiasts of every experience level.
Those who would like to learn more about how to explore the outdoors through Outdoor UW can visit union.wisc.edu/outdooruw.