Paddling rentals, yoga and group outdoors experiences to begin at Outdoor UW after summer 2020 hiatus due to COVID-19
Posted: 05/26/21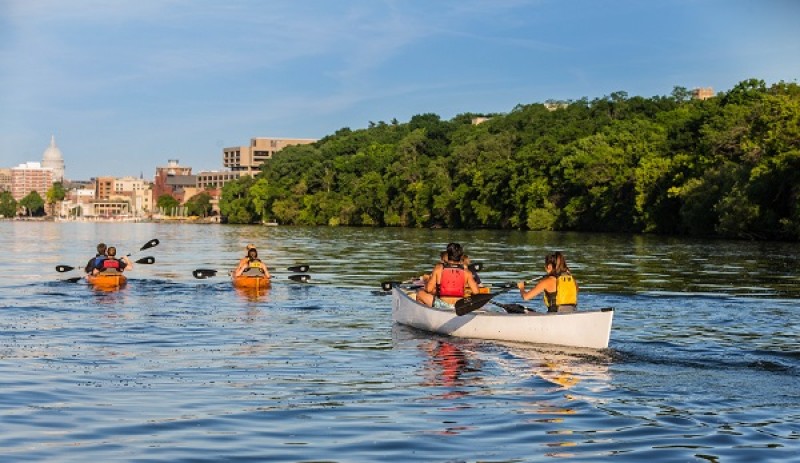 The Outdoor UW docks are back in Lake Mendota, the outdoor recreation equipment is cleaned and ready, and adventures on water and land await with Outdoor UW. 
As of May 31, Outdoor UW, the Wisconsin Union's outlet to the outdoors, will begin offering its summer paddling rentals from its Memorial Union service desk. Its summer rental options include tandem kayaks, single kayaks, canoes, stand-up paddleboards, and eight-person stand-up paddleboards. Customers can begin making reservations on May 26 online, by phone at (608) 262-1630 or by email. 
The Outdoor UW team offers year-round camping, hiking and climbing equipment rentals as well as snowshoe rentals each winter. 
The team recommends that customers make advance reservations but can accommodate reservations made on-site at the Outdoor UW service desk on the lower level of Memorial Union, as capacity allows. 
The docks near the Outdoor UW's entrance at Memorial Union are only available to Outdoor UW's customers and the Union's outdoor recreation clubs, providing customers with access to Lake Mendota to enjoy their paddling equipment from Outdoor UW. In addition, trained outdoor recreation professionals are on-site to help customers of all experience levels enjoy their Outdoor UW experiences. 
The team will begin holding private outdoor group experiences by reservation on June 7. Group experience offerings include group paddling; an adventure on an eight-person stand-up paddleboard, called SUP Squatch; a group meeting on Lake Mendota with a lesson of paddling basics included; paddling games, including team-building opportunities; private introductions to paddling lessons; private yoga classes; and custom outdoor recreation group experiences. 
The team will also host open paddle events, including Family Nights every Tuesday from 4-6 p.m. from June 15 to Aug. 24. Family Night includes games, sightseeing and learning paddling skills.
For the health and safety of its customers, the Outdoor UW team inspects, cleans and sanitizes camping gear and paddling equipment upon rental return, and uses its lifejackets on a rotating schedule to ensure they are not reused within the same day. All Outdoor UW staff and guests are required to follow Union and campus public health policies. The team will continue to monitor health and safety guidelines and will provide current practices in customers' confirmation emails. 
Outdoor UW will also host in-person yoga at Memorial Union and stand-up paddleboard yoga classes on Lake Mendota in partnership with University Recreation & Wellbeing at the University of Wisconsin-Madison. Registration for each class opens 48 hours before the class. Those interested in participating can learn more here. 
The team's services also include paddle craft storage at Willow Beach and University Bay. Individuals can purchase a seasonal storage space to keep their canoes or kayaks at these locations next to Lake Mendota. Customers can contact Outdoor UW at (608) 262-1630 or by email to learn more about available storage space. 
"We can support customers in many ways that they can enjoy the outdoors, whether someone wants to rent camping equipment for an adventure at one of our state's beautiful campgrounds or to rent kayaks for an immediate trip on Lake Mendota," Jill Griffis, outdoor recreation advisor and Hoofer club advisor at Outdoor UW. "No matter the skill or experience level, everyone can enjoy Wisconsin's outdoors."
During the summer of 2020, when the team would usually expand its offerings to include paddling rentals, the team's paddling equipment remained in storage, as the world contended with a pandemic. The team members determined that paddling equipment rentals would not occur that summer out of an abundance of caution and to allow for time to revise paddling equipment health and safety practices in light of COVID-19 for summer 2021.
In September 2020, Memorial Union and Union South opened to UW-Madison students, staff and faculty and remained limited to these members of the campus community until May 10. During this time of limited access, the Outdoor UW team worked together to implement new health and safety practices and offered camping equipment rentals and winter recreation rentals to students, staff and faculty and their guests for off-site use during the 2020-21 academic year. 
The team also continued to advise student and community leaders in the Union's outdoor recreation clubs, called the Wisconsin Hoofers, as well as provide virtual learning and connection opportunities for the community. 
Those who would like to learn more about Outdoor UW's services can visit union.wisc.edu/events-and-activities/outdoor-uw.