Wisconsin Union Theater patrons to experience a night of storytelling through music with singer-songwriter Okaidja Afroso on Feb. 11
Posted: 01/28/21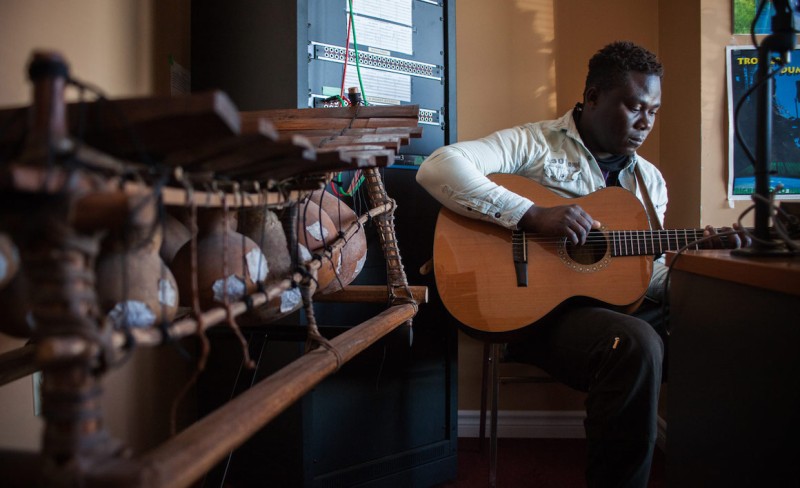 Singer-songwriter and multi-instrumentalist Okaidja Afroso believes in bringing together diverse forms of expression to create global harmony. He will bring his genre-defying approach to music to Wisconsin Union Theater patrons during a virtual performance on Feb. 11 at 7:30 p.m. CDT.
Audience members can enjoy this special solo performance recorded just for the Wisconsin Union Theater audience, which will include Ghanaian music infused with cross-cultural influences.
Tickets for this online event cost $10 for UW-Madison students; $17 for Wisconsin Union members, UW-Madison staff and faculty, and students that do not attend UW-Madison; and $20 for all other Theater patrons.
"Okaidja Afroso effortlessly weaves fascinating stories into this intimate musical performance," Wisconsin Union Theater Director Elizabeth Snodgrass said. "I recommend turning the lights low, relaxing back in your favorite chair, and letting Okaidja transport you to another place with the beautiful sounds from Ghana."
Afroso will perform "Nshorke," "Afterlife Voyage," "Kpehe," "Akamo Nnane," "Siak," "The Palm Wine Sea," "Faako," and "State of Mind." He will sing in English and Ga.
Wisconsin Union Theater presents music from around the globe as part of every season to provide patrons with an opportunity to learn and experience art from many different cultures.
The Wisconsin Union Theater presents Afroso's performance in collaboration with the student-led Wisconsin Union Directorate (WUD) Performing Arts Committee. The Theater, often in collaboration with the Committee, creates more than a dozen arts performances each year. For more than 75 years, the Theater has served as a center for cultural activity.
The Theater works to create accessible performing arts experiences, including virtual spaces. Those that need accommodations can reach out to the Wisconsin Union Theater at wisconsinuniontheater@union.wisc.edu.
The Wisconsin Union Theater stands against racial inequities and is taking steps to address those inequalities, including commissioning programming that highlights BIPOC stories. For a full statement on the Theater's stance and efforts, click here.
This performance is presented in part through Wisconsin Arts Board funding from the State of Wisconsin and financial assistance from the National Endowment for the Arts.
For more information about Afroso's performance, click here.