Tong Family Marina Update - February 2019
Posted: 02/20/19
We are about halfway through construction of the Tong Family Marina, a new pier system along Lake Mendota. Once finished, the marina will enhance safety, increase boat storage efficiency, allow for the creation of a new park, and provide more on-land space for programming.
Construction began in October 2018 and continues today, even as temperatures fall into the sometimes below freezing.
Each week, the lakefront continues to evolve into the modern, safe new space of which the Union team, including its incredible student leaders, have dreamt for years.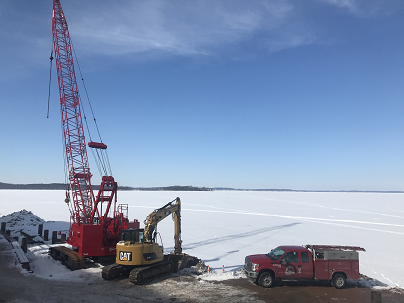 Extensive work has been completed including but not limited to the following:
Removed previous pier system
Installed temporary fence around the construction site
Created a turbidity curtain, which serves as an erosion control system during construction
Removed light posts and various utilities
Completed driving 30 pipe piles, which serve as deep foundations for the pier system
Installed sheet piling lake wall
Completed work on pouring concrete for scow sloop ramp
Have begun work on manufacturing the pier structure
Despite subzero temperatures and pausing progress during a portion of UW-Madison finals week, the Tong Family Marina is on track to be complete in summer 2019.
In coming weeks, work will continue, including adding new, angular stone revetment, which will help prevent erosion and fortify the shoreline. In addition, a metal cap will be placed on the sheet piling, which will then be covered by concrete. The Hoofer Marina Project is being funded solely by private donations. More information about the project, including how to help make this effort possible through a donation, can be found here: union.wisc.edu/get-involved/donate/give-to-hoofers.