$1 microscope inventor to speak at Memorial Union
Posted: 11/14/16
The Wisconsin Union Directorate (WUD) Distinguished Lecture Series Committee will host a lecture by Manu Prakash, an innovative scientist and inventor, at Shannon Hall in the Memorial Union on Nov. 21 from 7-9 p.m.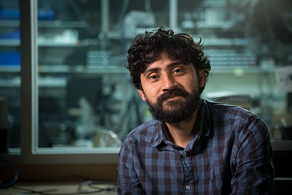 Prakash is a scientist and professor at Stanford University where he specializes in bioengineering. He is best known for his invention of the "Foldscope", a foldable, paper microscope made out of materials that cost less than $1.
"Prakash's Foldscope has the potential to provide impoverished children with scientific opportunities they likely would have never had before," said Ian Simmons, WUD Distinguished Lecture Series associate director of marketing.
Prakash was recently awarded the MacArthur Foundation "genius grant," which is given to individuals who show exceptional originality, insight and potential.
"We hope guests will take away a sense of wonder in science and innovation that they may not have had since they were children," Simmons said.
This event is both free and open to the public. Prakash's lecture will be followed by a 30-minute question and answer session.
The WUD Distinguished Lecture Series is a student-run committee that contributes to broadening the educational experience of University of Wisconsin-Madison students as well as the Madison community. It is dedicated to bringing smart, engaging and influential people to campus in order to spark thought-provoking conversations and ideas.
To learn more about the speaker event or the WUD Distinguished Lecture Series Committee, please visit union.wisc.edu/dls.