Madison World Music Festival will take attendees on a trip through much of the world
Posted: 08/23/19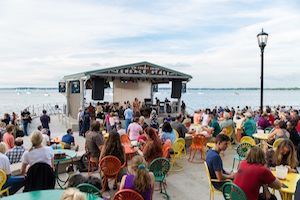 The Wisconsin Union Theater's free Madison World Music Festival will bring music from around the world to the Memorial Union and the Willy Street Fair in Madison Sept. 13-14.
The Theater team is excited to announce the following festival lineup:
Sept. 13, Memorial Union

3 p.m., Festival Room – Southern Italian dance workshop with southern Italian folk music group Newpoli
5 p.m., Memorial Union Terrace – Traditional southern Italian music, Newpoli
5:45 p.m., Play Circle Theater – Cape Verdean music, Lucibela
7 p.m., Memorial Union Terrace – Psychedelic cumbia rooted in musical traditions of the Peruvian Amazon, Los Wembler's de Iquitos
9 p.m., Memorial Union Terrace – Electronic Chadian music, Afrotronix

Sept. 14, Willy Street Fair

2:15 p.m. – Brazilian and Brazilian-influenced music, Samba Novistas
4:15 p.m. – Madagascar folk music, Toko Telo
6:15 p.m. – Tuareg music from Niger, Les Filles de Illighadad
8:15 p.m. – Music from Honduras, Nohe & Sus Santos

Sept. 14, Memorial Union Terrace

9 p.m. – Angolan music blended with South American sound and American funk, Vivalda Dula
"Right from the beginning, the mission of the festival was to bring new and unknown artists from unique places, who may be working in unusual genres and to expand the horizons of audience members. We hope the Madison World Music Festival inspires festival-goers to take time to learn about and further their understanding of the world and its many cultures," said Esty Dinur, Wisconsin Union Theater community and campus relations director and Madison World Music Festival artistic director. "This is not another festival presenting audience favorites; rather, we create new favorites."
The festival began in 2004 as an effort to celebrate cultures from around the globe and create an unforgettable experience for the community. This will be the festival's 16th year of providing world music in the Madison area.
The Wisconsin Union Theater presents this festival in collaboration with the student-led Wisconsin Union Directorate (WUD) Performing Arts Committee and the Marquette Neighborhood Association.
This festival is made possible with support from the UW Credit Union; the Anonymous Fund; Dane Arts; Evjue Foundation, Inc.; Latin America, Caribbean and Iberian Studies; the Endres Manufacturing Company Foundation; the WUD Film Committee; the Wisconsin Arts Board; the State of Wisconsin; the Pleasant T. Rowland Foundation; the W. Jerome Frautschi Foundation; Capital City Hues; WORT-FM; and the National Endowment for the Arts.
For more information about the Madison World Music Festival, visit union.wisc.edu/madison-world-music-festival.