Musician and activist Lyla June to speak on Indigenous rights, revitalizing ancient Indigenous land practices at free even on Nov. 14
Posted: 11/03/22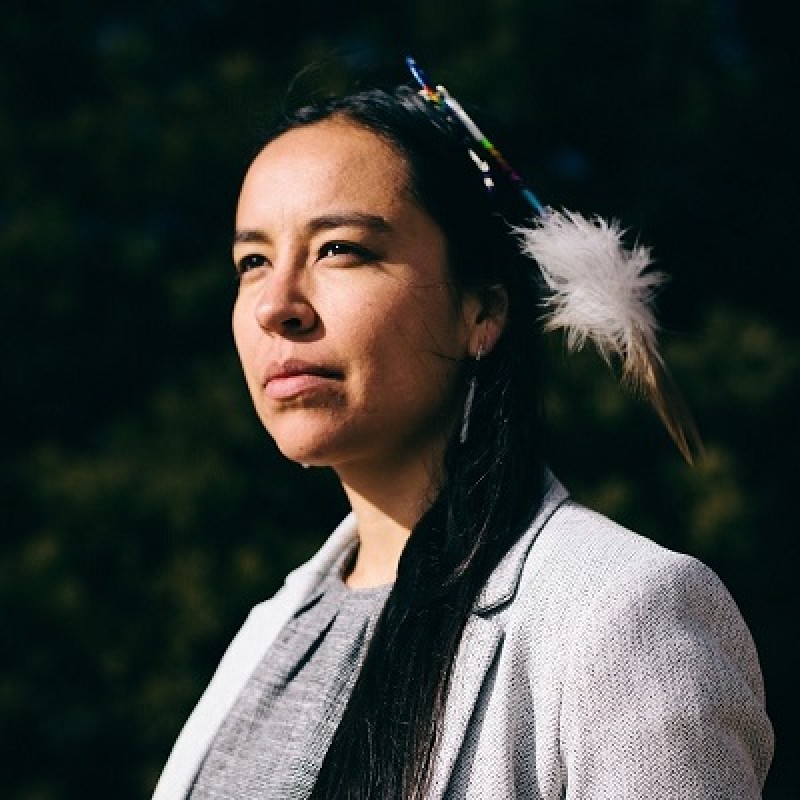 Renowned poet, musician, human ecologist and community organizer Lyla June will bring her ideas on inter-cultural and ecological healing to a Wisconsin Union Directorate (WUD) Distinguished Lecture Series (DLS) Committee's 2022 Boundary Breakers and Shakers Series free event at the DeLuca Forum in the Wisconsin Discovery Building on Nov. 14 at 7 p.m.
Bringing her perspective as a woman of Diné (Navajo), Tsétsêhéstâhese (Cheyenne) and European lineages, June's 90-minute talk will include both lecture and Q&A portions. The event, titled "An Evening with Lyla June: The Power of Indigenous Knowledge in an Age of Neocolonialism," is free and open to the public, with no tickets necessary.
Combining her personal experience with her studies in human ecology and Native American pedagogy, June advocates for Indigenous rights, the use of traditional land stewardship practices and mending from historical trauma.
In addition to her many other speaking projects, June most recently spoke at TEDxKC about restoring Indigenous sustainable land management practices in her speech, titled "3000-Year-Old Solutions to Modern Problems."
June is also heralded for her musical and spoken word performances, including her hit spiritual rap song, " All Nations Rise," a call of encouragement, hope and strength for Indigenous peoples.
"There's a lot of work to do to improve our communities," June said in an interview with Navajo Times. "I was raised by strong people to live my life deliberately and to view every one of my creations as an opportunity to heal my people, all people."
With an undergraduate focus on human ecology at Stanford University, June later received a master's degree in Native American pedagogy at the University of New Mexico. She is currently pursuing her doctoral degree in Indigenous studies with a focus on Indigenous food systems revitalization at the University of Alaska Fairbanks.
The WUD DLS Committee brings engaging and influential people to the UW–Madison campus to encourage thought-provoking conversations. WUD includes 11 committees and six Wisconsin Hoofers clubs that program thousands of events each year.
Patrons can learn more about the upcoming, free talk with June here.