WUD Publications Lit Fest celebrates culture in storytelling
Posted: 04/15/18
The Wisconsin Union Directorate (WUD) Publications Committee will celebrate culture in literature and storytelling during the WUD Publications Lit Fest from April 16 to April 26.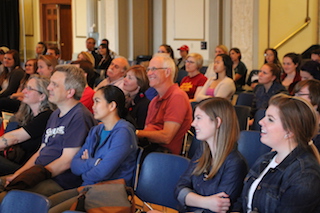 WUD Publications will kick off the week-long celebration with a how-to session on travel blogging during which attendees will learn about how to record memories they won't want to forget and create story ideas from their travels.
Lit Fest will also include a series of hands-on activities, such as story collaboration with writers, illustrators and musicians in a literary jam session and a journal-making event.
In addition, multiple guest speakers will share their storytelling expertise throughout the week, including writer and scholar Eve Louise Ewing, Ph.D., and political fashion blogger, photographer and author Hoda Katebi. Lit Fest will also feature a panel on expressing one's self as an artist as well as many other events.
"Our effort is to remind the community of the underlying elements of culture in our daily lives," said Michelle Thomas, associate director of special events for WUD Publications.
Presented in partnership with WUD Distinguished Lecture Series, WUD Society and Politics and Wheelhouse Studios, Lit Fest events span from topics of fashion and art to food and conversation and are free and open to the public.
Those interested in learning more about Lit Fest may visit: union.wisc.edu/get-involved/wud/publications/lit-fest.