Musical storytelling through jazz fusion by Joel Ross Good Vibes takes center stage Oct. 16 at Memorial Union
Posted: 10/06/22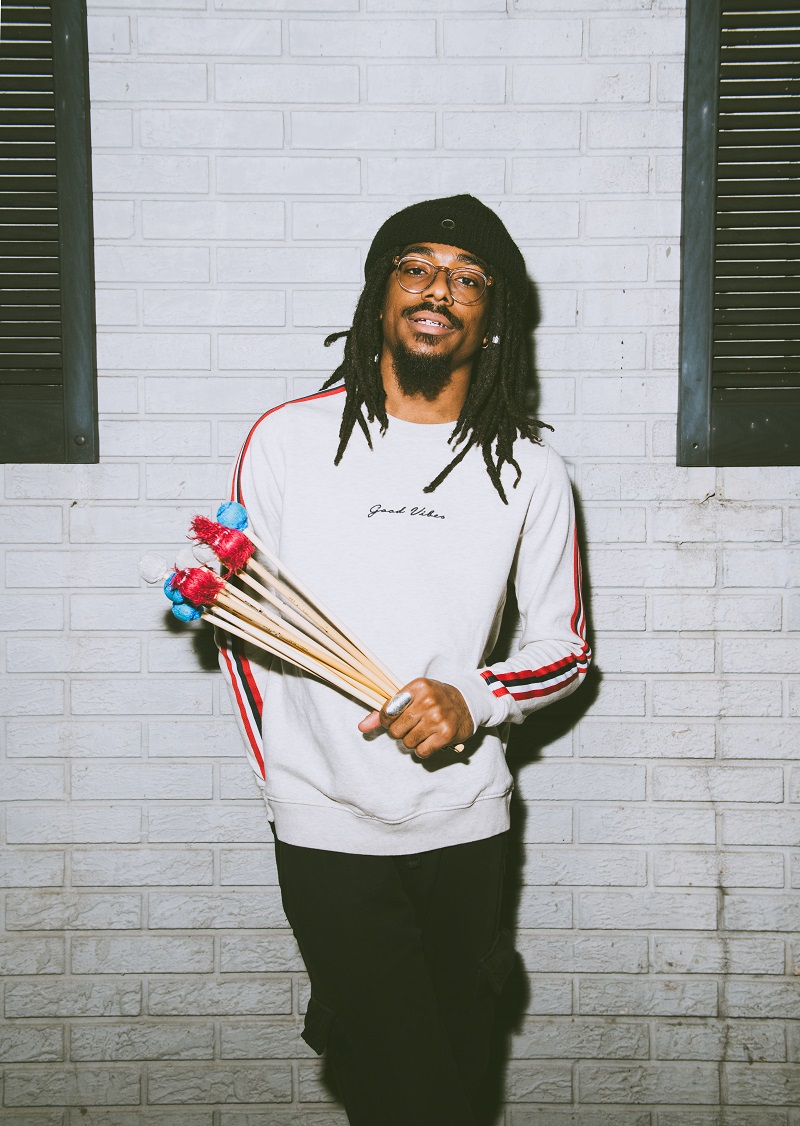 A night of musical storytelling through jazz fusion comes to Madison with Midwest-born and raised vibraphonist and composer Joel Ross performing with his band Good Vibes on Oct. 16 at 7:30 p.m. CDT.
Patrons can enjoy the upcoming Wisconsin Union Theater Jazz Series performance featuring Joel Ross Good Vibes in-person at the Play Circle Theater at Memorial Union or through virtual attendance.
With each Joel Ross Good Vibes performance featuring lyrical improvisation, this event promises to be one of a kind.
Joining Ross in musical storytelling, the Good Vibes band features pianist Jeremy Corren, drummer Jeremy Dutton, bassist Kanoa Mendenhall, and saxophonist Sergio Tabanico.
Released in May 2022, Ross's newest album "The Parable of the Poet" includes nods to the story of his music beginnings when he performed music in a Baptist church. The collection includes the songs: "Prayer," "Guilt," "Choices," "Wail," "The Impetus (To Be and Do Better)," "Doxology (Hope)," and "Benediction." He previously released the albums "KingMaker" in 2019 and "Who Are You?" in 2020.
Ross's musical journey began with him playing the drums in church, but he moved on to the xylophone, because he felt his brother was a more talented drummer. The day he picked up xylophone mallets for the first time began the journey that would lead him to the vibraphone and then to earn a Residency Commission from The Jazz Gallery, a place in The Jazz Gallery All-Stars band, a residency at Roulette Intermedium for Jazzfest Berlin, and multiple residencies at Baby's All Right in Brooklyn.
Ross includes the expertise of Good Vibes in his work, consistently giving the band members a creative say in the final presentation of the works they perform. They practice reacting seamlessly to one another's improvisation to create a cohesion among the layers of music.
Guests can purchase virtual and in-person tickets online, by phone at (608) 265-2787 or in-person at the Memorial Union Box Office. Wisconsin Union members, guests under the age of 18, and University of Wisconsin–Madison students, staff and faculty are eligible for discounted tickets.
"Joel Ross is a visionary, and his music is deeply personal," Wisconsin Union Theater Director Elizabeth Snodgrass said. "He puts his whole truth into his music, and his band is so in sync with that. With Joel and Good Vibes, it's more than music; it's storytelling."
The Wisconsin Union Theater presents this event as part of its 2022-23 Jazz Series, which will also feature performances by Cory Henry on Nov. 3, Cécile McLorin Salvant on Feb. 7, 2023, Samara Joy on Feb. 16, 2023, and Immanuel Wilkins on March 25, 2023. The overall 2022-23 Wisconsin Union theater season also includes dance and classical music events.
The Wisconsin Union Theater team co-presents its 2022-23 season with the UW–Madison student-led Wisconsin Union Directorate (WUD) Performing Arts Committee. Ticket revenue and purchases by patrons at Memorial Union partly support professional development experiences offered through WUD.
Patrons can click here to learn more about the Joel Ross Good Vibes performance.