Wisconsin Union to hold Independence Day Celebration
Posted: 06/26/18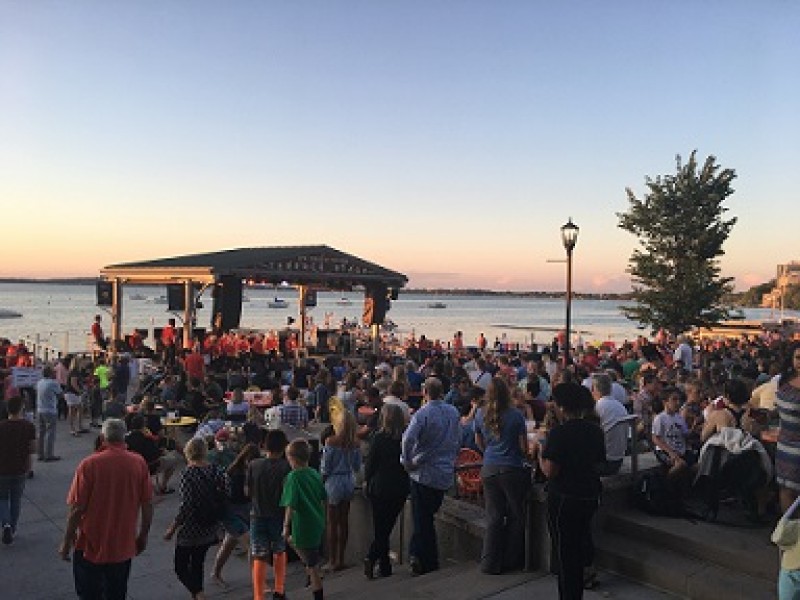 The Wisconsin Union will host an Independence Day Celebration June 30 at the Memorial Union Terrace, which will include a lineup of free entertainment and fireworks over Lake Mendota.
The Union's music lineup will begin at 4:30 p.m. with bands chosen and presented by the student-run Wisconsin Union Directorate (WUD) Music Committee, which books, promotes and runs music programming at Memorial Union and Union South.
Singer-songwriter Gabe Burdulis will kickoff the lineup. Burdulis's music will feature bluesy roots and pop melodies in a folk and Americana-based style. He will perform on the UW Credit Union Terrace Stage until 6:30 p.m.
From 5-8 p.m., the Wisconsin Union team will take their celebration to new heights with the Wild Rumpus Stilt Walkers at the Memorial Union Terrace.
In addition, from 7-9 p.m., Madison-based DJ Nick Nice will lead a family-friendly dance party at the Memorial Union Terrace. His performance, presented by WUD Music, will feature disco, '80s tunes and club classics as well as glow sticks.
It wouldn't be an Independence Day celebration without fireworks – at 9 p.m., the Union will light up the sky over Lake Mendota.
Following the fireworks, DJ Nick Nice will make his way back to the UW Credit Union Terrace Stage from 9:30-11:30 p.m. and perform party jams. His performance will include special guest appearances from other DJs.
This year, the Wisconsin Alumni Association will also hold family-friendly activities from 2 p.m. to 6 p.m. next door to the Memorial Union Terrace at Alumni Park. Activities will include park tours, free lemonade, science-themed activities, a scavenger hunt, map-making and more.
Purchases made at the Memorial Union during the Independence Day Celebration and all year long help support the thousands of student leadership opportunities provided by the Wisconsin Union each year. These purchases also help the Union provide the community with more than 2,300 events annually.
For the full lakefront celebration event schedule, please click here.