Wisconsin Homecoming Committee, Wisconsin Alumni Association, partners present week of Homecoming 2023 events, activities
Posted: 09/07/23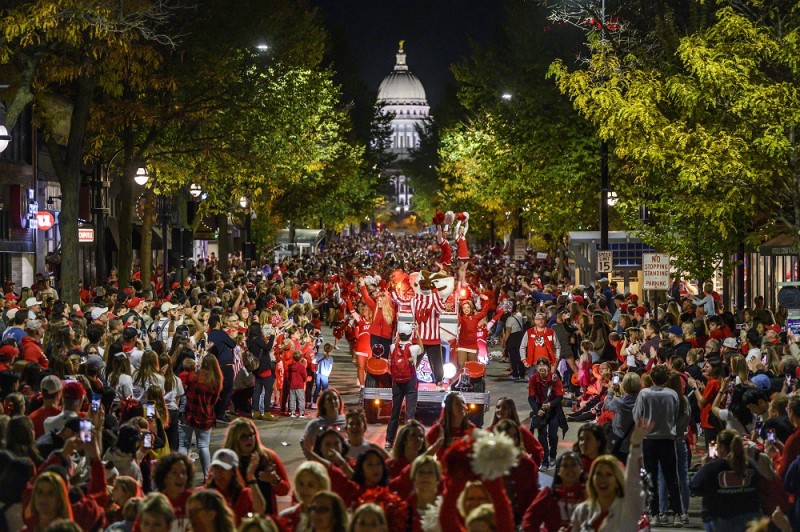 University of Wisconsin–Madison Homecoming is back for its 113th year with eight days of events and activities from Sept. 30-Oct. 7. The Wisconsin Homecoming Committee will present free celebrations, including a concert featuring rap artist Armani White, the long-established parade through downtown Madison, and – new this year – a parade after-party on Library Mall. The Wisconsin Alumni Association (WAA) will host additional events, including a block party and pep rally at the Memorial Union Terrace featuring fireworks, weather permitting. This year's homecoming coincides with the university's celebration of its 175th anniversary.
The Wisconsin Homecoming Committee, WAA and partners present the following Homecoming events for students, alumni, faculty, staff and honorary Badgers:
Now through Sept. 20
Sept. 30
Oct. 1
Oct. 2-6
Oct. 2-7
Oct. 2
Oct. 3-5
Oct. 4
Oct. 5-6
Oct. 6
Oct. 7
Attendees can read the most up-to-date list of Wisconsin Homecoming Committee events at wiscohoco.com and the most up-to-date list of WAA Homecoming events at uwalumni.com/homecoming.
One of the week's most popular festivities, the UW Homecoming Parade, will kick off an evening of celebration on Oct. 6, including circus specialists and other performers. The parade will begin on the corner of Gilman Street and Wisconsin Avenue at 6 p.m., proceeding down Gilman Street to State Street and ending on Lake Street at approximately 7:30 p.m.
Both UW–Madison student organizations and non-university groups are invited to apply to walk, dance, bike, or build a float for the parade.
After the parade, the Wisconsin Homecoming Committee invites attendees to make their way to Library Mall to enjoy the Homecoming Parade After-Party before bringing out their Badger spirit at WAA's UW Homecoming Block Party and Pep Rally. Individuals can then swing by the Multicultural Yard Show, featuring performances by members of National Pan-Hellenic Council (NPHC) and Multicultural Greek Council (MGC) of UW–Madison Fraternity & Sorority Life.
"Every year, the Wisconsin Homecoming Committee is able to create and plan a wide variety of events for the greater campus community," Wisconsin Homecoming Committee President Katherine Reed said. "I am thrilled to be a part of the team that brings UW–Madison and the greater Madison area together to celebrate our shared Badger identity!"
The Wisconsin Homecoming Committee is a nonprofit, student-run organization in the Wisconsin Union that aims to bring the community together to celebrate what it means to be a Wisconsin Badger. Whether someone is a past, current or future Badger or a Badger-at-heart, everyone is welcome to join in on the festivities.
This year's Committee executive board members include President Katherine Reed, Vice President Mariana Ray-Hernandez, Director of Marketing and Communications Amari Mbongwo, Assistant Director of Marketing and Communications Caasi Woji, Campus Events Chair Ella Matz and Parade Representative Sophie Gerstman.
"The Wisconsin Alumni Association is excited to celebrate UW's Homecoming with alumni near and far, and proud to offer a variety of activities for alumni, students and the Madison community in partnership with the Wisconsin Homecoming Committee," said Sarah Schutt, chief alumni officer and executive director of the Wisconsin Alumni Association. "One of our longest-standing annual events, Homecoming is a special time for all Badgers to show their spirit, particularly this year during the university's 175th anniversary."