Wisconsin Homecoming Committee invites all to Homecoming 2022 events
Posted: 09/01/22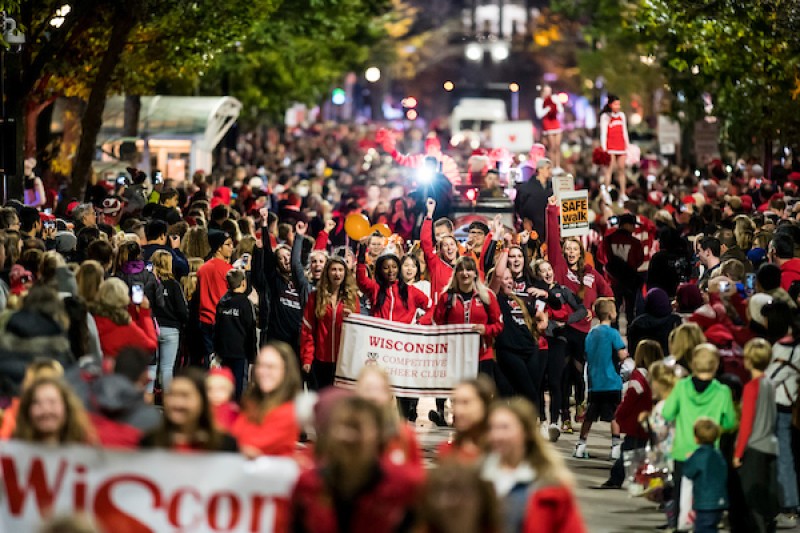 A time-honored Madison celebration, University of Wisconsin‒Madison Homecoming, will return Oct. 17-22 for its 111th year. Presented by the Wisconsin Homecoming Committee, the week-long festivities will include long-running traditions, such as a parade throughout downtown Madison, and new events.
Some of the free events that attendees can experience include the following:
Attendees can read the most up-to-date list of events at wiscohoco.com. The Committee, the Wisconsin Union team and others will continue to add events to the calendar in the weeks leading up to Homecoming. All currently planned events are free and open to the public.
One of the most beloved Homecoming traditions, the Homecoming parade, will return yet again, featuring many returning participants, such as Bucky Badger, the UW Spirit Squad, the Bucky Wagon, and the University of Wisconsin Marching Band. The parade will begin on Langdon Street at 6 p.m., proceed to Wisconsin Avenue between Langdon Street and Gilman Street, travel along Gilman Street to State Street and then continue to Lake Street, ending at approximately 7:30 p.m.
"I am so excited to be able to bring together the greater campus community through Homecoming Week. Our committee is planning a wide variety of in-person events that are bigger and better than ever," Wisconsin Homecoming Committee President Jacob Carignan said. "I am anxiously counting down the days until we get to celebrate what makes our university great with fellow students, University of Wisconsin‒Madison faculty and staff, and the greater Madison community!"
The Wisconsin Homecoming Committee is a nonprofit, student-run organization that aims to bring the community together to celebrate what it means to be a Wisconsin Badger. Whether someone is a past, current or future Badger or a Badger-at-heart, everyone is welcome to join in on the festivities.
This year's Committee executive board members include President Jacob Carignan, Vice President Rachel Ganske, Director of Marketing and Communications Katherine Reed, Community Events Chairs Andrea Brehovska and Muhammad Rehan, Multicultural Greek Council Representative Margarita Campos, and National Pan-Hellenic Council Representative Noah Cotton.
Those interested in attending Homecoming can visit wiscohoco.com for official UW‒Madison Homecoming celebration information.