WhatGregSays: Escher String Quartet, with David Finckel, flirts with perfection
Posted: 01/29/20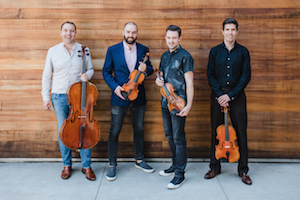 Talented writer and tireless arts supporter Greg Hettmansberger shares his review of the Jan. 25 performance by the Escher String Quartet with David Finckel. Their performance was part of the Wisconsin Union Theater's 100th annual Concert Series season.
Click here to read the full article.
Click here to learn more about the Concert Series, including upcoming performances by the Chamber Music Society of Lincoln Center, Wu Han with the UW Symphony Orchestra, Gil Shaham with Akira Eguchi, and Renée Fleming.