Wisconsin Union Theater season continues with virtual events featuring jazz pianist Christian Sands and classical pianist Jeremy Denk
Posted: 11/20/20
The Wisconsin Union Theater's fall virtual events will continue with a live performance by the Christian Sands Trio on Dec. 3 at 8 p.m. CDT, which will be preceded by a live Q&A at 7:30 p.m. CDT, and a performance by pianist Jeremy Denk on Dec. 11 at 7:30 p.m. CDT, which will be preceded by a live Q&A at 7 p.m. CDT.
At the age of 31, Sands has already established himself as one of the most in-demand jazz pianists in the world and has been hailed as the leading pianist of his generation. He began learning piano at the age of 3, but his journey began with learning classical music.
He found his way to jazz piano at 7 years old after feeling constricted by the specificity his teacher prescribed for how each classical piece was to be played. His parents supported his journey and ensured music often filled the Sands household, including music from Grover Washington Jr., Miles Davis and Shirley Caesar, all of which influenced Sands's music.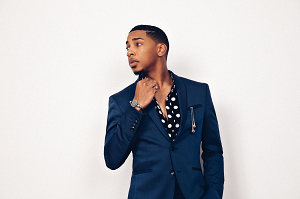 Sands recently released an album, called "Be Water," which took inspiration from water's peaceful yet powerful qualities. "Be Water" includes 10 pieces, nine of which Sands wrote, that emulate the many forms that water can take, from a sun-bathed, tranquil lake to a fierce thunderstorm. Sands will include music from this album in his performance.
"Christian is a jazz piano prodigy playing with the greats like Billy Taylor and Oscar Peterson and is shaping up to be one of the 'greats' himself," Wisconsin Union Theater Director Elizabeth Snodgrass said.
Customers that still have previously purchased tickets for the Christians Sands performances that were scheduled for April 9 or April 10 can use the tickets for the Dec. 3 performance.
Denk's performance, which is part of the Theater's 101st Annual Concert Series, will include Robert Schumann's "Papillons, Op. 2," Clara Schumann's "Romances, Op. 21," Missy Mazzoli's "Bolts of Loving Thunder," and Johannes Brahms's "Four Pieces for Piano, Op. 119."
In the United States, Denk has performed with the Chicago Symphony, New York Philharmonic, Los Angeles Philharmonic, San Francisco Symphony and Cleveland Orchestra and frequently performs at Carnegie Hall. Internationally, he has toured with the world-famous Academy of St Martin in the Fields as well as at the Royal Albert Hall as part of the BBC Proms. Among his many accomplishments, Denk won a MacArthur Genius Fellowship and the Avery Fisher Prize.
Denk's talents include writing about music. Some of his stories about music have been featured on the front page of the New York Times Book Review as well as in The New Yorker, The New Republic and The Guardian. His passion for composing both music and writing compositions is evident in his music-based blog "Think Denk," which dates back to 2005.
"Jeremy Denk is one of the greatest pianists of our generation," Snodgross said. "While many pianists specialize in a particular period or composer, Jeremy is a musical omnivore whose wide-ranging interests span centuries and styles, and he is exceptional at playing all of them. As The New York Times said, he is 'a pianist you want to hear no matter what he performs.'"
For more than 75 years, the Wisconsin Union Theater has served as a cultural center for community members and visitors.
The Wisconsin Union Theater team presents its season in collaboration with the student-led Wisconsin Union Directorate (WUD) Performing Arts Committee, which, along with 10 other WUD committees and six clubs, promotes and runs more than 1,000 Wisconsin Union events each year.
The Theater team strives for all of its spaces to be accessible, and those that need accommodations can reach out to the Wisconsin Union Theater team at wisconsinuniontheater@union.wisc.edu.
This year, the Wisconsin Union Theater team committed to taking action in standing against racial inequities. The team is working to be activists; use the arts to create social justice; remember that students are future leaders and must be part of the change; use its voices to influence leadership and be firm in its resolve; and make space, step back, and learn how to give up undeserved or unnecessary power and privilege. For a full statement on the Theater's stance and efforts, click here.
To purchase tickets to Sands's performance, visit https://union.wisc.edu/events-and-activities/event-calendar/event/christian-sands-trio/. To purchase tickets to Denk's performance, visit https://union.wisc.edu/events-and-activities/event-calendar/event/jeremy-denk/.