Wisconsin Union Directorate Publications Committee debuts summer issue, 'Community'
Posted: 08/26/20
The Wisconsin Union Directorate (WUD) Publications Committee's summer issue, titled "Community," debuted Aug. 26 with topics ranging from public policy to food systems all centered on the idea of community.
Unique to this summer, all six publications of the University of Wisconsin-Madison student-run Publications Committee worked together to create its first-ever collaborative issue. Click here to read "Community."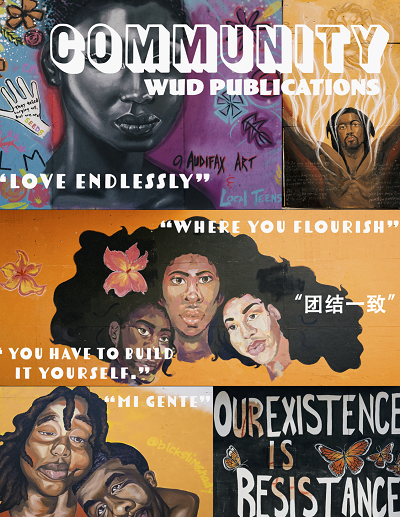 The cover of "Community" features mural artwork by Madisonians and students. Inside, the issue provides platforms for different perspectives on community in relation to music, global food cultures, the criminal justice system, travel, and poetry.
The issue includes an interview with Matthew Charles, the author of the poetry collection "You Can Not Burn the Sun"; a student's perspective of the industrialized food system; a look at equality in the workplace; and more.
"Bringing together the multitude of creatives required to produce a publication virtually with not one, but six magazines was a challenge," said Madelyn Vilker, WUD Publications Committee associate director of marketing and digital collaborations and current UW-Madison student. "Despite difficult circumstances, the many talented students of the WUD Publications Committee persevered to craft a virtual issue that we hope inspires dialogue and community-building."
The WUD Publications Committee publishes six magazines and journals at UW-Madison and serves as a creative outlet for student voices. The Committee is one of 11 committees and six clubs that make up WUD, the programming and leadership board at the Wisconsin Union.
All WUD Publications events, magazines, and journals are provided free of charge. WUD's clubs and committees do not receive taxpayer dollars or student fees. Those who would like to support the Publications Committee's efforts to celebrate creativity on campus and provide hands-on experience in publishing can do so by becoming a sponsor, which includes an advertisement in a journal or magazine. To learn more, email publications@union.wisc.edu.
The WUD Publications Committee also welcomes UW-Madison students to join the Committee and serve in one of a variety of available roles, from writing to graphic design. To learn more and to read past issues of the Committee's magazines and journals, visit union.wisc.edu/get-involved/wud/publications.